Rime Arodaky : Dare to be a chic and fun bride at the same time !
Rime Arodaky: Dare to be a chic and fun bride
at the same time ! 



At the Dressing Club, we love Rime Arodaky!



Back to our meeting with this brand:


In 2014, first meeting with the famous designer's team in their incredible Parisian showroom. Victoire is immediately seduced by

the magic of the place: the light from the large glass canopies, the whiteness of the dresses, the modern and graphic

decoration. Each piece is a creation that contrasts with everything that has been done so far in wedding dresses. Rime

breathes new life into her creations, which are designed for women who are more assertive,

freer and who fully assume their femininity and sensuality.



Victoire tells us about the beginnings of the collaboration with the brand: 



"As soon as we received and tried out the first Rime Arodaky pieces, we sensed a real enthusiasm for the brand among young

customers. The collections better met the expectations of future brides who no longer wanted dresses

that were too floral but more Rock 'n' Roll."


The two teams quickly began to work together. 


"We quickly appreciated working with the Rime team, which was super dynamic and very friendly. I think our good
understanding is due to the fact that we're both in the start-up spirit."


You can find our favorite dress by click here.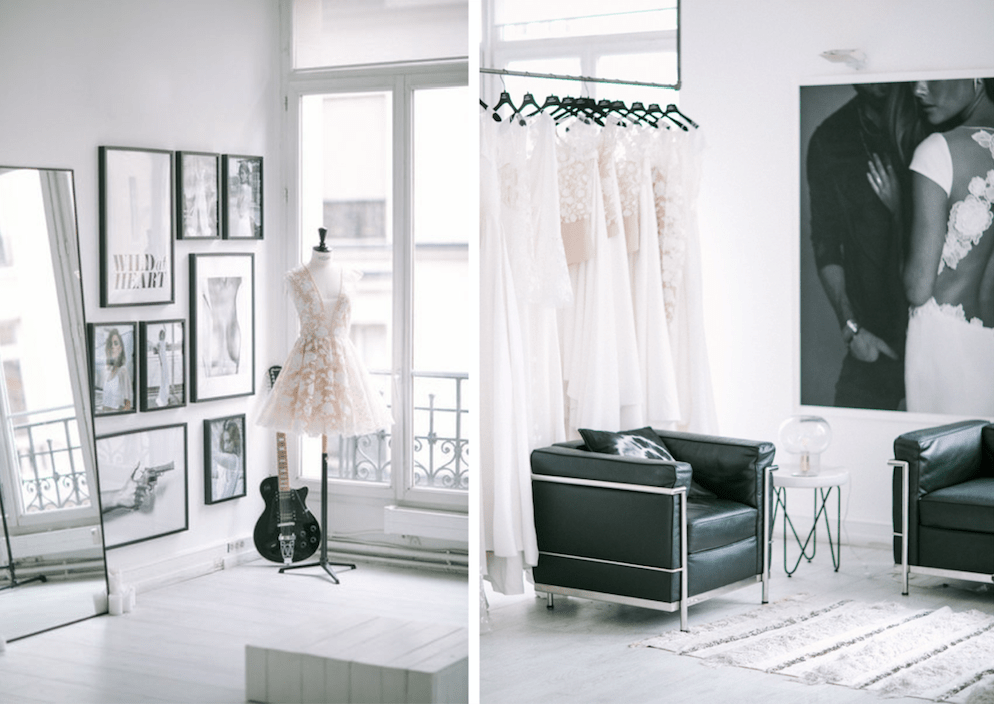 Back to the creator:


Rime Arodaky launched her wedding dress brand in 2011. She decided to create wedding dresses in an unconventional style to

break the codes of a stable and classic industry.



Rime was trained at the Parisian Haute Couture Chamber of Commerce. Her collections are represented by a sensual universe.

The woman who wears a Rime Arodaky wedding dress is feminine and modern. The dresses represent self-confidence and

freedom with their rock and glamour side. This brand only makes Made in France gowns

with a confirmed know-how in theirParisian workshop.
A fervent supporter of animal rights and the environment, the Maison Rime Arodaky does not use animal skin or elements

tested on animals (they say no to wool, feathers, fur, silk, leather...) in the manufacture of its creations.



They only work with suppliers and partners who share their vision of a humane business model.
In 2015, the brand has also developed a ready-to-wear collection for civil weddings, wedding day brunch or engagement

which is available on their website.
Today, the Rime Arodaky brand has spread all over the world and in the Dressing Club. We also wish to accompany the brand

by opening new points of sale. Promoting the designers we love is part of our ambition.