Still torn between postponing your nuptials or going ahead with a mini bash to seal the deal? Don't let the pandemic get in the way of a perfect wedding. Plough ahead and bring some joy to what is a strange time for us all! A small intimate wedding may not be what you had in mind but we show you how it can be better than anything you ever imagined. Here's all our advice on how to celebrate in style.
The perks of planning a micro-wedding
            For the 2021 brides-to-be still dreaming of a large-scale wedding with two hundred guests, its time to face reality. Amidst the second wave of the Covid pandemic and lockdown round 2, it is inevitable to think about how 2021 wedding celebrations will be impacted. As the rules on weddings during the pandemic got reduced to fifteen guests, couples as well as their friends and relatives responded with anger, despair, and a continued fear for an uncertain future. At the start, we must admit we couldn't help but feel depressed for our future brides and share their sorrow. However, with hindsight, every cloud has its silver lining. We genuinely think that getting married in 2021 can be really great and that your micro-wedding will be the best day of your life!
Getting married in 2021 means your love is genuine and authentic
To our beloved 2021 brides and grooms, who despite the difficult and turbulent times are still planning to go ahead and say YES in front of the mayor, the priest, the vicar, rabbi, imam or other officiant, first and foremost a huge congratulations. You are proving that you aren't just getting married by convention, to throw an extravagant party that will blow your guests away, or simply because everyone around you is getting married.
You have chosen to get married because you are ready, your love story has reached the stage of lifelong commitment, for better or for worse. You are getting married for the fundamentals, for what is most beautiful in marriage, to fully give yourself to your partner for life. That's right, your wedding will not wait until 2022, because you know that marriage is not just a celebration, it is about embarking on an incredible adventure together.
And to add to the strength and authenticity of your relationship, by getting married in these turbulent and complicated times, you are spreading this heartfelt message to all your loved ones. You are testifying your love and your faith in marriage.
Don't hang around and wait another year to get married... Bite the bullet and plan your micro-wedding with your nearest and dearest!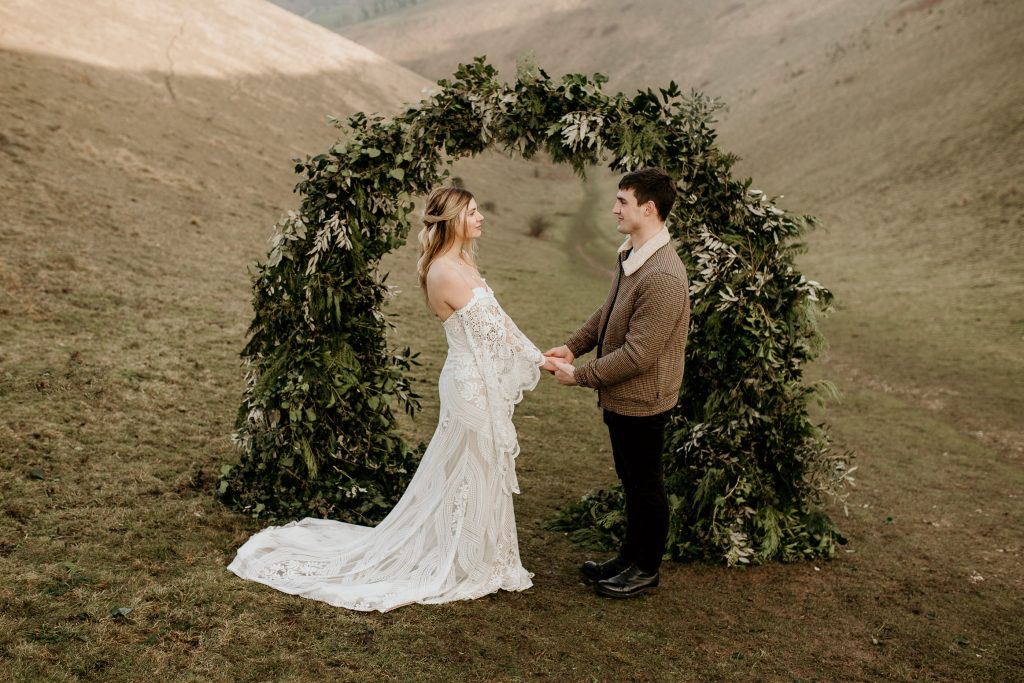 Photo: Elena Popa Photography

Why will your 2021 micro-wedding rock your socks off?
Because it'll be intimate and your guests will only be the ones that matter most to you. Social distancing and isolation has made us all ruminate on the things that are most important in life - our nearest and dearest. Admittedly, there will certainly be friends and family you'll miss, but you will be in their hearts and minds on that day. You could possibly ask them to film a short video of themselves beforehand so they can somewhat be present on this very important day.
A micro-wedding means more quality time spent celebrating with your nearest and dearest in an intimate setting. Having less guests will allow you to splash out on those that matter most and create an unforgettable experience for them. We refuse to believe that brides and grooms at typically sized weddings actually get to have meaningful connections with each and every one of their guests.
Fewer guests require lighter organisation, less pressure and tension, so you can fully enjoy your day. That's right, no frantic phone calls from suppliers or guests. The wedding preparations will allow you to individually consider each guest, to welcome them, give them one-to-one attention, and prepare the venue with a more personal touch.
We all know what you're thinking - Fewer guests also means more budget for decoration, the little details and perhaps more personalisation. You could for instance drop the standard white tablecloths usually offered by the caterer, to choose something more personal, more "you": light linen, liberty print, or even toile de jouy. It could be the perfect opportunity to take out the family table linen and crockery to create an intimate and meaningful atmosphere. 
You could treat your guests to local cuisine, anything is possible in terms of gastronomy when you have fewer guests. If you get a group of musicians, the atmosphere could lead to singing and dancing. What about setting up garden braseros or fire pits, with a guitar, and a DIY s'more station where guests can grill their own marshmallows? Those are the kind of extra details you can play around with to build your ideal micro-wedding atmosphere.
Imagine actually getting to spend quality time with your other half and dancing with your best friends all night long, without the guilt that you haven't spoken to your great-great-aunt yet? How ideal!


The perfect wedding dress for your 2021 micro-wedding
A non negligible perk of micro-weddings: Minimising on guests will allow you to focus on picking out the incredible designer gown you've always dreamt of!
What is the right wedding dress for a small wedding? Let's think along together.
- First and foremost, a dress in which you feel good and can easily move around in… That of course applies to any wedding, big or small! This may mean ruling out a big puffy dress if you're getting married in a small room or venue.
- A refined dress, without being too traditional. Forget about the three meter train and favour a simple dress with a perfect drop, in a beautiful fabric like silk mousseline. A bohemian or bucolic style such as the designs from the iconic Laure de Sagazan, or Maison Floret (one of Le Dressing Club favourites), or from our own brand Alba, will be perfectly fitting for a wedding set in a garden or around nature.
- Our brides-to-be tend to think a small wedding means short wedding dress. Shorter venue does mean smaller outfit, but remember, regardless of whether there are 30 guests or 200, your wedding remains YOUR day, the one you dreamed of as a little girl, so don't miss out on your dream wedding dress. We would put it this way instead:
Wedding in 2021 = wear the dress you've always dreamed of

After months of being stuck inside wearing dressings gowns and jogging bottoms, we predict a return of full-on glamour. From statement jewellery and bow-ties to hair and make-up, our couples and their guests will want to go all-out for 2021 weddings. If you do choose to go down the micro dress route, have fun with accessories! We're thinking a bright pair of heels, matching shades with your other half, a funky statement veil or a colourful flower crown.
For the most beautiful bridal accessories, Le Dressing Club loves Les Couronnes de Victoire, the brand on every French brides' radar. We have a selection of their exquisite flower crowns, hair combs and earrings in our London showroom.
We all want to make up for lost photo opportunities don't we?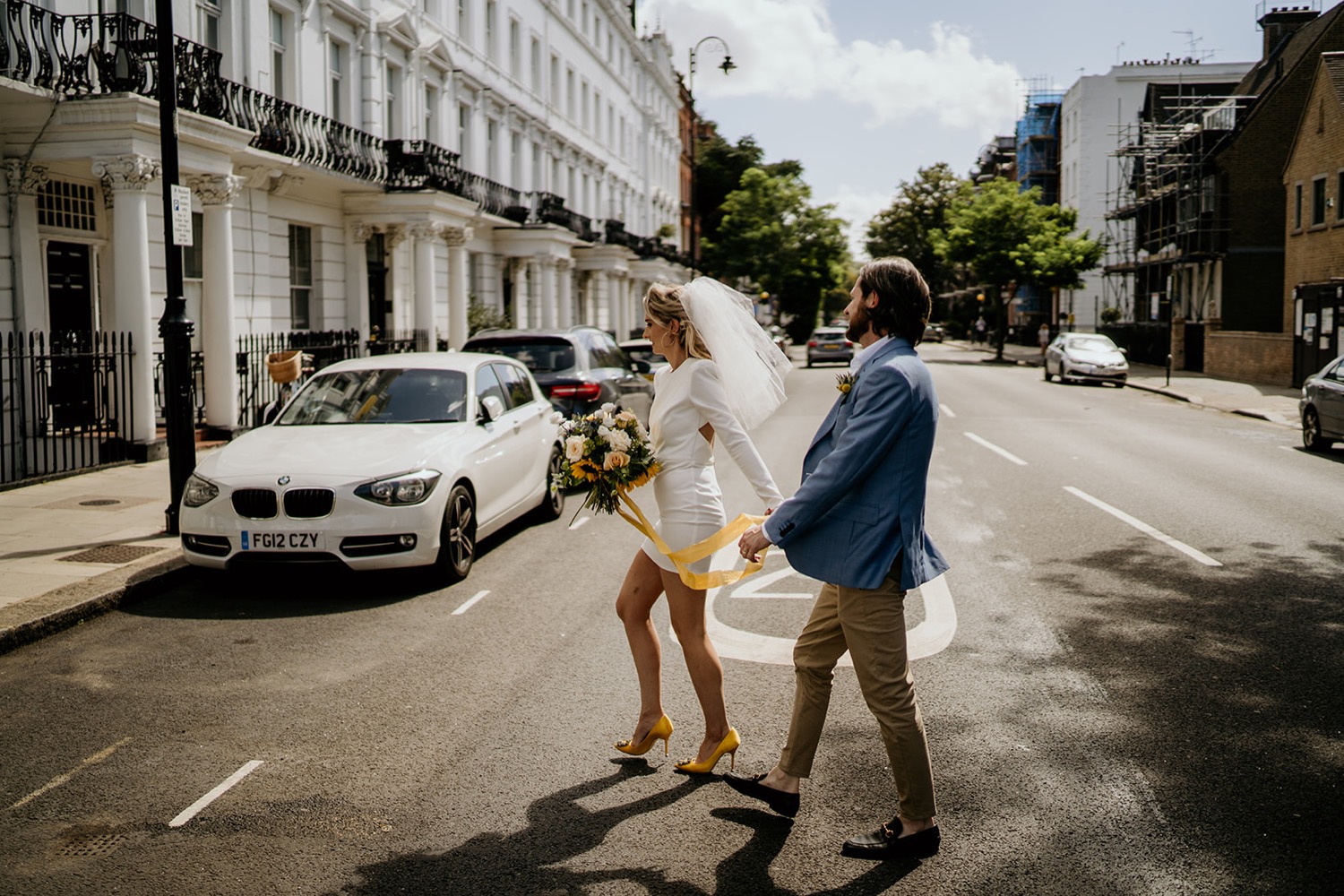 Photo: Elena Popa Photography
An eco-friendly wedding is easily achievable when small
That's right, 2021 micro-weddings will be the perfect opportunity to make weddings more sustainable. It is indeed much easier to be environmentally friendly when you have a reduced number of guests.

- Let's start with catering. Opt for a local caterer who can come up with a seasonal menu and favour local supply chains and distribution channels. We love wedding menus that are based around local and seasonal products. It will not only build an authentic and unique wedding story, the food itself will be even more delicious.

- Moving on to wedding decor. Depending on the season you are getting married, start off with nature-inspired decoration such as locally-sourced fresh flowers for a Summer wedding, dried flowers, foliage, and wood slice centrepieces for rustic Autumnal weddings. You can use also objects you already have at home that can add a personal touch to your wedding table setting. Have a look at our article on Coralie & Arthur's wedding to see how they incorporated books to their beautiful wedding table decoration. How poetic! No need to buy 100 identical candle jars or lantern centrepieces, you may have fewer tables but they'll be intricately decorated and personalised to the slightest detail. Micro-weddings avoid you buying vast quantities of decorative objects that will end up in a cumbersome box after the wedding.

- Have you considered a sustainable wedding dress? We don't often think about it, but buying a wedding dress that will only be worn once in a lifetime is the epitome of a non-sustainable purchase! Wasted fabric scraps, the origin and treatment of different materials and sometimes even the manufacturing of wedding dresses - Believe it or not, a lot of wedding dresses under the £2,000 price tag are made in China… ouch it hurts us to say that! Eco-friendly wedding dress options include buying a second-hand wedding dress, renting one for the day, or coming to Le Dressing Club! At Le Dressing Club, we have a selection of gorgeous wedding dresses from French designers, either samples that would have gone to waste or second-hand wedding dresses in immaculate condition.
Finally, your micro-wedding will be the opportunity to refocus on yourself and think about what really makes you happy. You won't feel pressured to get anything just to please your guests. No, a photo-booth is not essential to have a fun wedding. No need to spend money on features that aren't important to you. Your micro-wedding will be all the more convivial and authentic and therefore more considerate for the environment.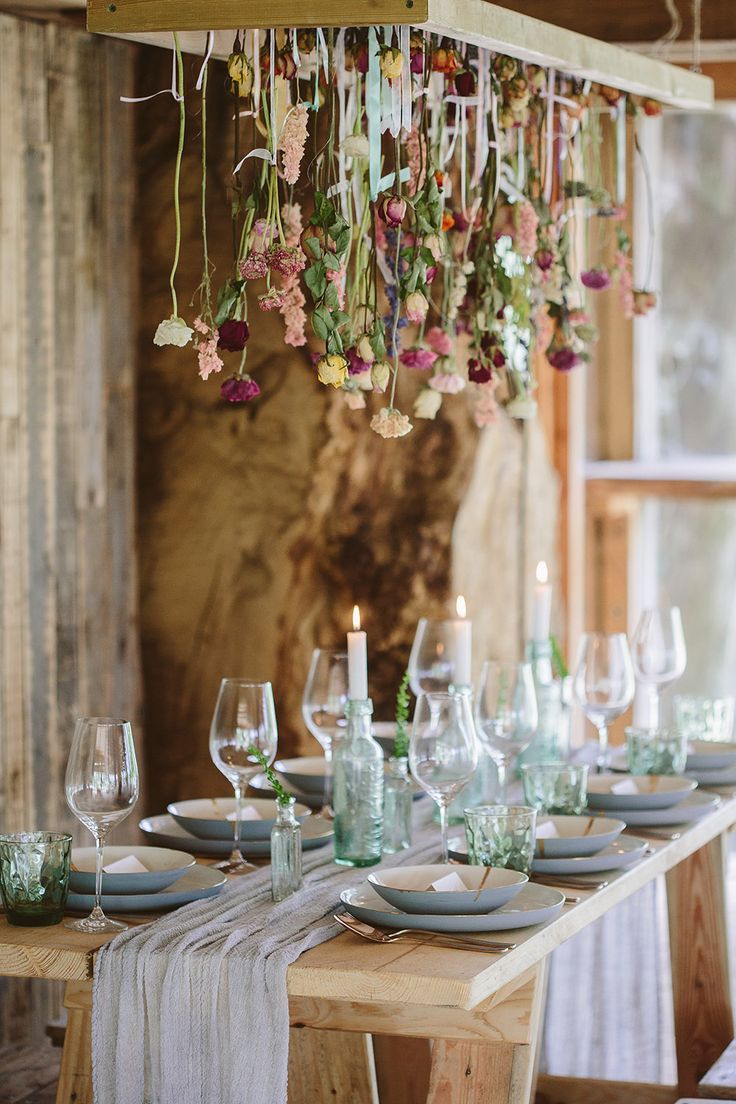 Celebrate in style with a wedding weekend
Fewer guests also make it possible to extend the celebrations over a whole weekend. Cocktail, starlit dinner, bridal brunch the next day. And why not a dinner on the beach? It is no longer necessary to faff around with multiple guest lists - The guests invited to just the cocktail party, the nearest & dearest invited to the Sunday brunch… Each guest is invited for the entire wedding to share this unique celebration with you and your loved ones.
If your guests come from far away, you may be able to offer accommodation at the venue. Your big day will pass by so quickly and spreading it out over a weekend will give you the opportunity to spend quality time with each guest. The second day is usually even more fun as everyone has had time to settle down, enjoy and relax. This is where tongues are loosened and real conversations are exchanged.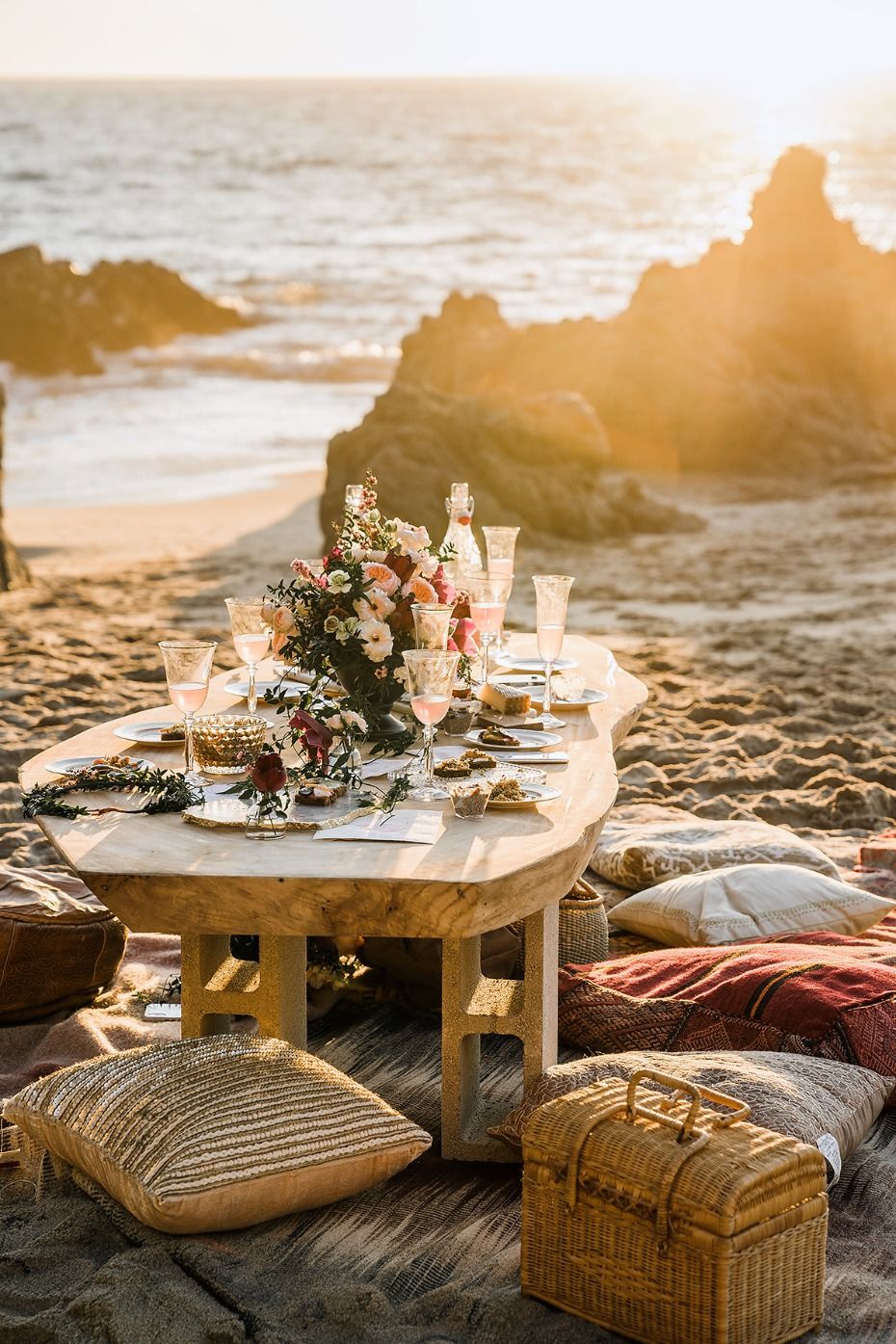 To conclude, our dear 2021 brides-to-be are lucky!
Who would have thought a year ago that it would be possible to organise a small wedding, without shocking parents, in-laws and distant friends? Rather than stressing and sulking, take the plunge and organise a wedding that makes you happy, the one you never knew you dreamt of having! 
If you're in the mindset that you couldn't possibly consider marrying without the entire guestlist you had anticipated, then of course that's what you need to continue planing for and wait until restrictions are lifted. The best advice we can give is find your dress as soon as possible. Not only will it be one less thing to worry about, but you might not have the same breadth of choice once restrictions are released and brides start sprawling out hunting for their wedding dresses.
We are so sorry for brides that are having a hard time, especially at a time which should be filled with joy and excitement. You are going to have an incredible, unique wedding with tears and laughter all around, so cheer up and enjoy!
Mini bash or postponed maxi-wedding, whatever you decide to do, your bridal journey will not be forgotten and it will for sure be a memorable one!


Wishing you all the best, 


The Dressing Club team x