A fairy-tale love story 


Coralie shares with us her romantic love story, starting from the very beginning of her relationship with Arthur, up until their magical wedding day.
From meeting her significant other, to wedding preparations and choosing the perfect dress… 
Coralie shares us all her wedding hints and tips, including how she found her Romane wedding dress by Alba.
Love at first sight
We met on 15th August 2011, in Houlgate a seaside resort in Normandy, where my family had rented a holiday home.
My cousin's best-friend Arthur had joined us for a few days during the Summer holidays.
We first met in the kitchen as he arrived from the train-station and I was back from the market.
Our eyes crossed, everything paused. It was love at first sight – genuinely!
I know it sounds like a romantic comedy but it was honestly how we first met.



Who mentioned Wedding first?
A year later, we were back home after having spent months in a long-distance relationship.
While he was playing the piano, I was looking over at him. At that moment I knew I wanted to listen to the music he was playing my whole life and start a family with him.


I feel like we had always spoken about getting married.
We grew up together and have always been very open when discussing all sorts of topics.
The proposal
Arthur asked me to marry him on the same beach we'd first met, on 15th August 2016 - Exactly five years later!
I waited all day for him to pop the question and was about to loose hope as the evening drew in.
We were sat on the sand, watching the sunset in front of the house we met in.

He pulled out an old copy of my favourite book "Far From the Madding Crowd" by Thomas Hardy,
in which he'd added photos of our relationship highlights.
I was already in tears, expecting what was to come.

Near the end of the book, he'd carved out a heart in the middle of the pages 
and the most beautiful engagement ring was placed inside. 
He got down on one knee and asked me, "Would you like to write the rest of your story with me?"
I can't remember what followed - Lots of tears, a big "Yes!" and the sound of waves crashing in the background...
Choosing the Wedding Dress
It was tough and required my wedding party to be incredibly patient with me!
I had already gone to five different wedding dress shops, some wackier than others. I'd tried big meringue-style dresses that made me look like Sissi the Empress, dresses with cleavage that ressemble red-carpet looks, big crinolines straight out of Versailles, and dubious-looking lacy numbers. I struggled to find something light, sensual, but rustic. I found the shop assistants unhelpful and it even felt like they enjoyed making me try on dresses that were the complete opposite of what I was looking for! In my discouraged state, I found myself going to Le Dressing Club for my last fitting. My last loyal bridesmaid, my best-friend Manon, kindly came along. As we opened the door, I told her "This is the last time I enter a wedding dress boutique. If I don't find anything, I'll get married in jeans and a t-shirt."
Yes, I was your typical bride-to-be drama queen !
As soon as I stepped into the showroom, I was charmed. It felt like walking into a friend's apartment. Soft lighting, simply decorated, and all the wedding dresses you could dream of. I certainly thought I was in wedding dress heaven. As I was browsing, I spotted a dress and immediately thought, "It's the one!". Thankfully, trying it on clearly confirmed my statement. It was light, silky, rustic to the right extent. The lace was the perfect combination of vintage and modern, while the open back added a sophisticated touch of sexy. Before even looking at myself in the mirror, I already knew it was the one, by how it fit my figure and felt against my skin. When I walked out of the changing room, I started tearing up and told Manon: "This is it." She also had tears in her eyes.
I finally looked at myself in the mirror and I knew I was wearing my dream dress. 
Manon then took photos from all angles while I tried on veils and flower crowns.
The Dressing Club team were all lovely, giving me their advice and expertise when needed.
I'll never forget this special moment.

I had finally experienced that legendary moment where a bride finds her dream wedding dress, and it exceeded all expectations!



Wedding planning
We were engaged for two years before we got married and my fiancé went off to work in Hong Kong during our engagement.

In true Monica Geller style (if you know, you know!),the day after we got engaged, I had already ordered a dedicated notebook to plan on, topped up my pen collection and subscribed to wedding magazines.

My fiancé and I started by discussing what we wanted our special day to feel like: an intimate, rustic wedding, with a book theme to match the wedding proposal.
Lots of flowers, a pastel-style colour theme, and ideally in Normandy.

That's exactly what we ended up with.
Through constant communication and perseverance, we were able to put together the wedding of our dreams.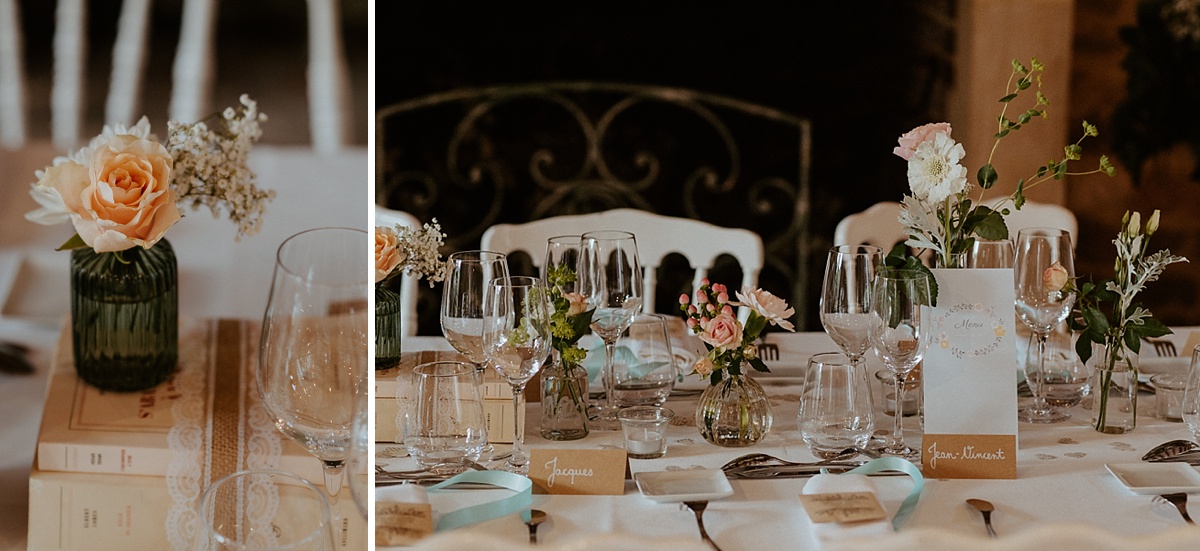 For the venue, we went with our instincts.
From our first visit to The Orangerie de Vatimesnil, the owner Madame d'Astorg began to help us out by suggesting a florist, DJ and caterer.

Luckily, the chateau had a chapel in the garden which meant less hassle and travelling around on the big day.
The garden provided a rustic atmosphere, with benches for our guests to sit on during the drinks reception.
We then moved to a beautiful Norman-style hall for the dinner.
There was even a large dormitory room with several beds where our friends who partied the hardest could retreat for the night!
As for our photographer, we also went with our gut and picked Sabrina Dupuy from Au-delà de l'image, who we met in Brittany and never looked further.
She became a friend and knew how to bring out the best in us, while showcasing small details which made all the difference.
Her style is very similar to mine, which made our photos an accurate representation of our character.
It was a magical connection!
We trusted all the businesses who supported us on our wedding day and I would say that's crucial.
It was liberating to have complete confidence and meant we could relax and enjoy our wedding day!
We also created a lot of the decorations ourselves - hanging garlands, place markers, vases decorated with lace, fans, photo booth, etc - which allowed us to relax (and have fun in the process too).
We were extremely lucky to have lots of friends around to give us a hand and allow us to unwind in the run-up to the big day.




My favourite memory of the day
A memorable moment was when I first saw my future husband, because we were so emotional. I must admit we were both feeling quite stressed out and clumsy, but excited for what was to come.
I would probably say that the best moment was when my grandfather saw me in my wedding dress for the first time, in the garden behind the house.
I could tell how happy and proud he was, handsome in his own wedding suit. In fact, he wore the same suit as when he got married to my grandmother 65 years ago.
We have a very strong bond and we both burst into tears. I ran into his arms and felt like a little girl again.
I could see how proud he was feeling. It was magical, and made me feel even more confident and beautiful.

He later told me, "I thought I saw the Virgin Mary walking up to me."




A wedding day must-have
Without a doubt, the "VIP Box" photo-booth we rented for the day.
It allowed both young and old guests to have a great time during the drinks reception, up until the following morning.
Our wonderful florist also brought hay bales, crates and flowers for the backdrop.
Our guests really enjoyed taking photos of our special day.

They could take the paper copies of their photos home and we also had access to all of them online.
It also enabled our guests to connect more and create a fun atmosphere.
I recommend the photo-booth to all my friends getting married, it's the best activity to add to your day!
Advice for brides-to-be
Be yourself. I know it's the cliché you will find in all wedding magazines and blogs, but it's true! I never felt unnatural or too "done up" on the day.
I trusted my hairdresser and make-up artist as I'd already had trials with them beforehand, and this made getting ready a whole lot more relaxing.

It made it all the more special to be at home, surrounded by those I love.
I felt beautiful in the eyes of the man I said "Yes" to for the rest of my life, and that's all that matters in the end.
Oh and also… trust each other!
You're organising a wedding together, so love should come first over the tons of decorations and the catering problems.
In the end, that's all that matters.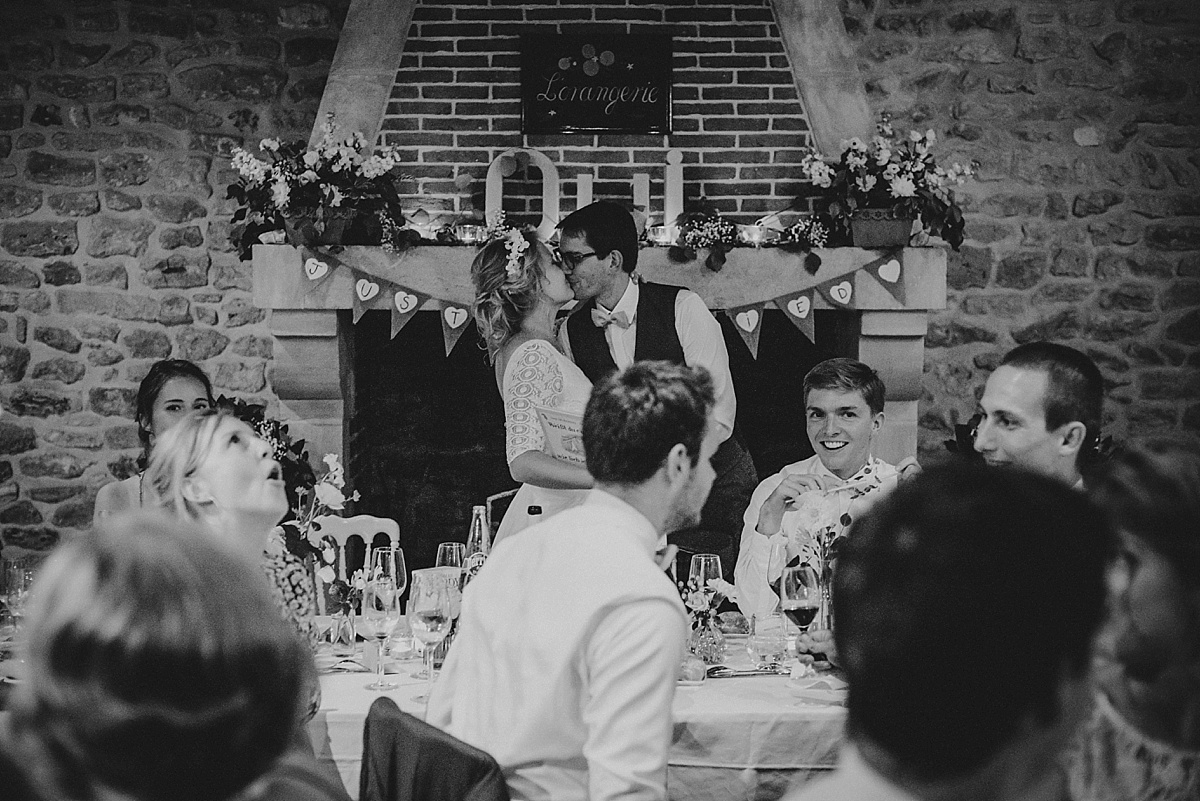 More Bride stories to come!!!



Photographs from Sabrina Dupuy