The people you choose to accompany you on your wedding dress shopping can make or break the experience. It's such an exciting time for a bride-to-be but can get overwhelming, so the type of people you ask to come along is very important! That's why we're here to share our advice on how to decide whom to bring to your wedding dress fittings. 
A unique experience
Are you stressed and apprehensive about your wedding dress fittings? Doubtful you are going to feel comfortable and find THE dress of your dreams? So many questions arise around the search for the perfect wedding dress. On average, our brides-to-be go to a total of around 2 or 3 carefully selected bridal shops. Less is more, there's no need to drown yourself in countless fittings and options. You'll only lose the thread, and even worse, the desire.  
It is hence essential to be well accompanied during your fittings to share your feelings, emotions and doubts. We recommend selecting a good soul to be present at all your fittings.
PLEASE NOTE: Due to the health crisis caused by Covid-19, we have to limit the number of people in our showrooms in order to protect ourselves from the virus. One of the precautionary measures put in place is that we sadly only allow one guest per bride.
We are aware this rule is tricky to apply and that you may want to share this magical moment with several people. However, we are committed to preserving everyone's health above all. You are always able to book another appointment after the first fitting to come with a different person. 
You need someone by your side during your fitting, you wouldn't want to be alone when you step out of the changing room in the first wedding dress you try on would you? Here is a non-exhaustive list of the different people who can accompany you to your wedding dress fittings.
Your mother
The brides-to-be we welcome at our showroom are often accompanied by their mothers. They are usually the person that know you best and will be able to advise you while having a critical opinion. Our mothers don't tend to let the small details slip through, therefore they can be your objective eyes during bridal fittings.
The Pros: You are the apple of her eye and it is guaranteed to be an emotional experience. Some tears may be shed as you try on THE wedding dress. She has the power to make you understand that you have well and truly found THE one.
The Cons: Boho chic, retro buco, rock & glamour, your mother isn't necessarily aware of the latest trends and may not understand them… And in any case, in her eyes, you will look wonderful in any wedding dress you try on. Setting your heart on ONE dress may be more complicated.


Your grandmother
We love it when our brides-to-be come to fittings accompanied by their grandmothers. Indeed, attentive and understanding, she will be able to give you her tips and her honest opinion to help you find the dress that is made for you. 
The Pros: She may have her own experience of being a bride or accompanying your mother or aunts on their wedding dress journey. She will therefore provide her invaluable advice. Furthermore, if your grandmother happens to master sewing like no one else, she will be able to add to your consultant's advice as to which fabrics flatter you the most and what alterations are to be considered.
The Cons: She may have expectations in mind that could distract you from your original idea. Make sure you discuss what you expect from your dress and what she has in mind for you beforehand.
Your best friend
Coming to wedding dress fittings with your best friend is the second most common choice for brides to have a trustworthy witness and opinion. Your friend will be able to advise you according to current trends, more so than older relatives. It is also a moment that will remain engraved in your friendship and will be the opportunity to spend a fun time with your girlfriends. You will keep magical memories and lovely pictures of these important moments. If your friend happens to be your maid of honour, she will be able to live this special moment with you before your big day.
The Pros: She knows you off by heart. She is aware of the small insecurities you prefer hiding. She won't hesitate to interrogate you so that you express your true expectations of your dream wedding dress. No taboos here! She knows your angles and will be able to take beautiful photos and videos of you that you can then send to your friends and family. 
The Cons: She may unconsciously tend to prefer you in a dress that meets her taste and style rather than yours.
Your sibling
Family members are usually the ones that are most involved in your wedding preparations. They are therefore likely to be moved and touched to come along to your wedding dress fittings. Furthermore, it may be more reassuring and comfortable for you to try on dresses in front of your brother or sister who you grew up with and will be able to find the right words.
Your sister will be able to reassure you if any of your insecurities resurface. If she has been through a wedding herself, she can bring first-hand advice and will be able to silence your fears. 
The Pros: Your sister has borrowed your favourite top a million times. She knows your wardrobe off by heart, and therefore your taste and style for your wedding day better than anyone else. Your brother will provide a man's perspective at your wedding dress fittings, to make sure your husband-to-be loves THE one as much as you do!
The Cons: Siblings can sometimes be too honest and blunt. Fittings in the company of a sister with a big mouth may offend the most sensitive souls.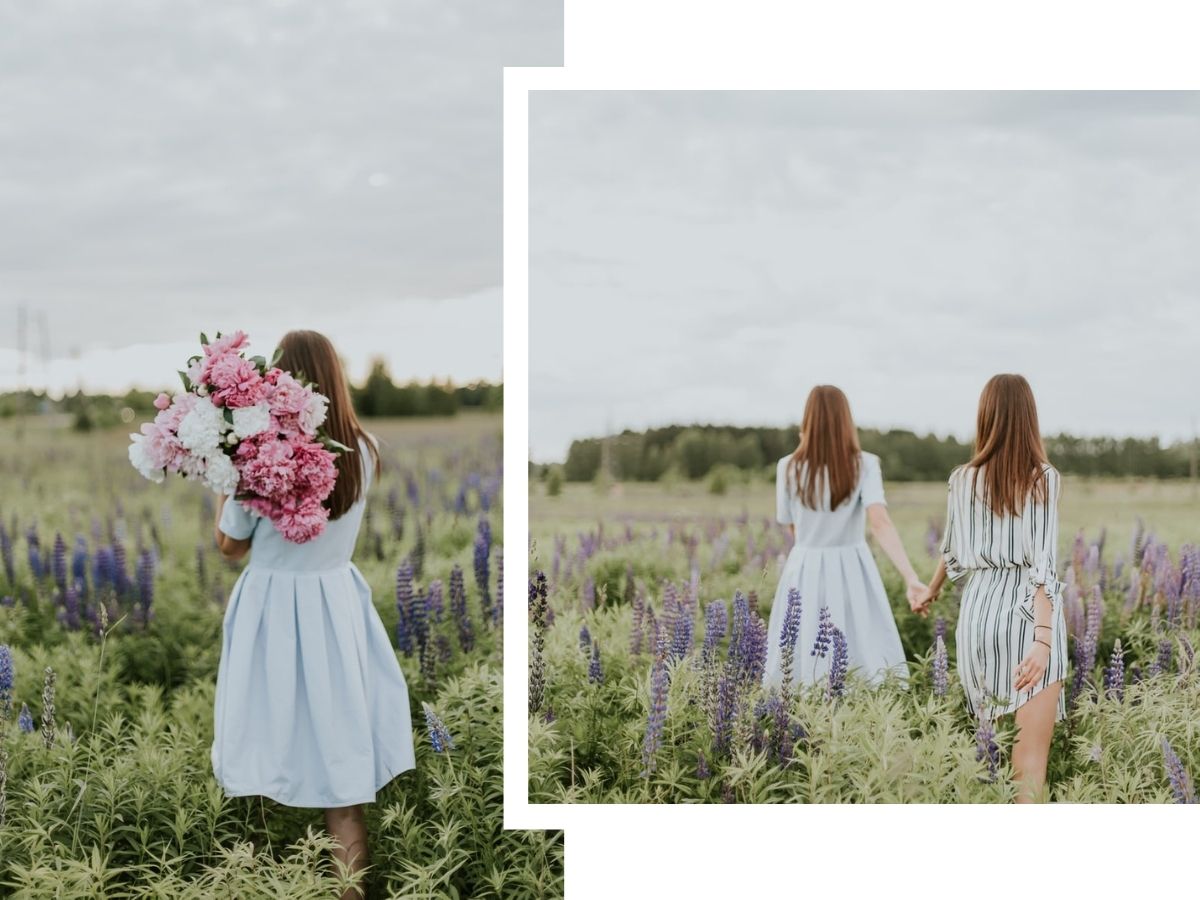 Your wedding planner
The person who accompanies you in your wedding organisation can be very useful to have by your side to give you professional advice. With their experience, your wedding planner will be able to give you their advice and anecdotes to relax the atmosphere. They will make sure you choose your dress according to the wedding theme or style: bohemian, country, rock, minimalist? 
The Pros: As a professional in the wedding sector, they know the season's bridal must-haves... and as a regular, they will help you select showrooms and designers that suit your style and budget.
The Cons: Remember that wedding planners are at your service. Add a 100% transparency and honesty clause to your contract. If the wedding dress you choose isn't flattering, make sure they are honest enough to let you know.
Go solo!
Last but not least, yourself and only yourself! There is absolutely no obligation to come accompanied. Many of our brides come to their fittings alone to take their time and listen to themselves first. Don't forget that YOU are the one getting married, so the decision is entirely your own. You can listen to the advice and opinions of your loved ones, but you must be sure of your choice for THE dress for your big day. 
On the day of your fitting at our showroom, you can take photos and videos (we love helping out and will happily find your best angles!) and send them to your friends and family to gather their opinions.
You will be more focused if you listen to your gut feeling and enjoy your own company for this unique moment. Your bridal consultant will also be there to make sure you have a good time within our reassuring showroom. Feel at ease to confide your doubts, apprehensions and share your stress if necessary. We will do our best to reassure you. 
The Pros: Being alone will allow you to be more relaxed and thoughtful in your fittings because you won't have to listen to several opinions at the same time. You'll be free from any form of judgment, persuasion or manipulation from anyone else. You can quietly and peacefully search for your style and come back with someone once you have narrowed your selection.
The Cons: If you find THE ONE at the first fitting and want to purchase it immediately to make sure you secure it, you won't have the opportunity to show it to your loved ones beforehand. Pictures may be enough or you may even want to keep the surprise for everyone to discover your wedding dress on the day!
The Dressing Club team is always by your side
In addition to your carefully selected +1 at your fitting, Le Dressing Club also offers you its expertise and advice.
During your appointment, a bridal consultant will be at your disposal throughout your hour-long fitting to understand your style, your body shape, your insecurities, and to guide you into finding THE perfect wedding dress. Your consultant will be able to advise you about the current bridal trends, the different fits available, the necessary alterations and pinpoint the designer that represents your style to a T.
Our aim is also to listen to you and your loved ones' opinions in order to make your final decision in an informed manner. We promise you will be well accompanied during your fittings, with critical, honest and hopefully emotional eyes.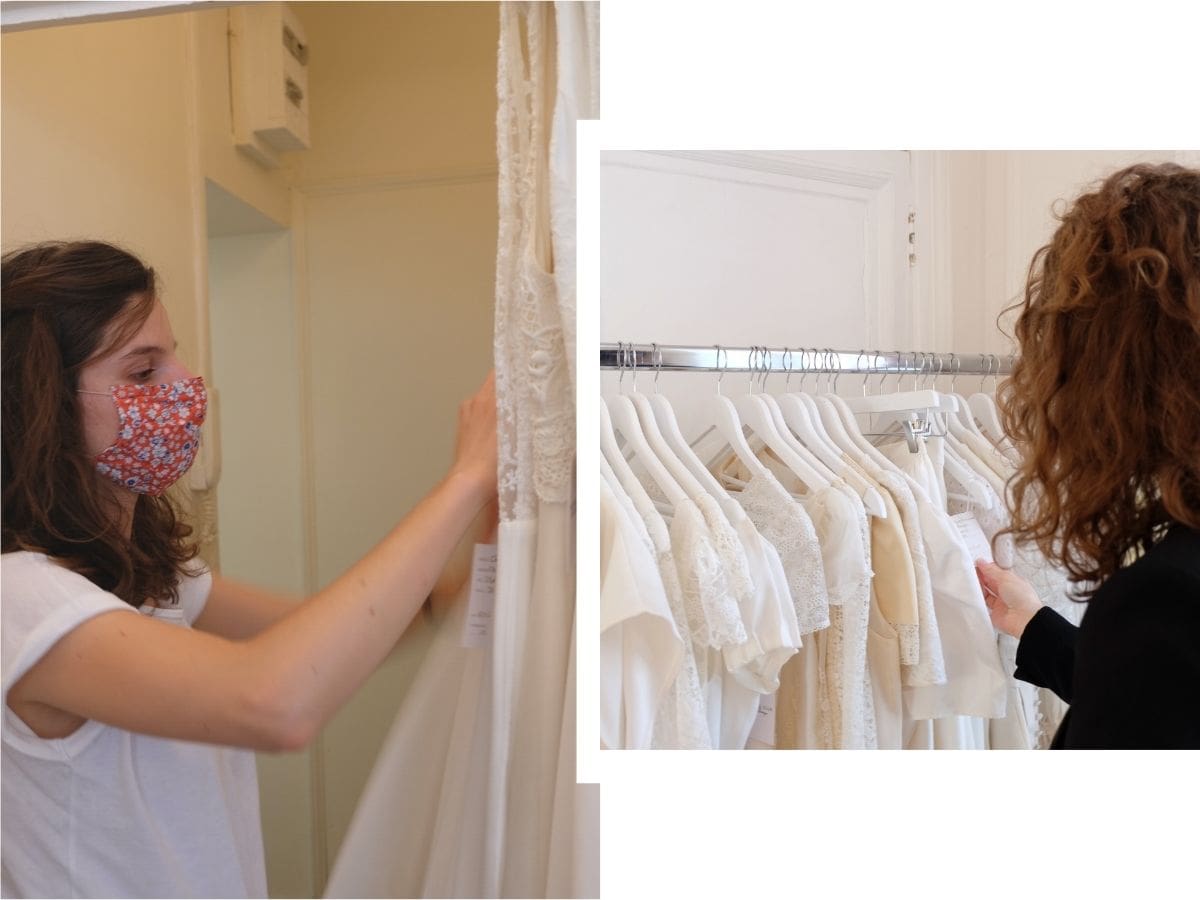 We hope this article has guided you and given you more clarity on the person you choose to take along to your wedding dress fittings. Remember, if you feel you need a second appointment to confirm your choice or come with a different guest, you are more than welcome to do so. But also bear in mind, who's better to trust than yourself? Don't feel pressured to come accompanied!
Whoever you may choose to bring along, we can't wait to embark on this journey with you! Our showroom in London welcomes you by appointment only to offer a unique selection of French designer wedding dresses. 


Check our opening times and book your fitting!