Among the hundreds of decisions, big and small, to be made while planning your perfect wedding, one of the most exciting yet daunting may be choosing the dress.
How do you figure out which wedding dress style is best for your body type? Unfortunately our hour-long fittings won't give you enough time to try on every single one of our dresses. It is therefore a good idea to figure out which wedding gown shape will flatter your body shape the best ahead of your fitting. This will allow you to refine your options before you set foot in our showroom, and we guarantee it will make your experience much more enjoyable!
Determine your body shape
Our bodies are all different and that's what makes them beautiful! Knowing your body shape will enable you to showcase your body and enhance your favourite features. One of the first steps in finding out which wedding dress shape will suit you best is to determine your body type. Bear in mind you won't necessarily fit into one category and could find yourself between two figures. Furthermore, height is also an important factor to be taken into account when determining your silhouette.
Each of our bodies are unique and beautiful in their own way but they roughly fit within one of these 6 body shapes: A, 8, X, H, V or O
There isn't a shape for skinny bodies and a shape for curvy bodies. Your body shape is all about your bone structure rather than fat percentage. 
We get it, it can be confusing figuring out whether your hips or shoulders are wider. Simply get your measuring tape and take three measurements: your shoulder width, your waist and hip circumference. Once you have taken these three measurements, you can figure out which body shape matches yours the best, or if you're still in doubt, take a test online.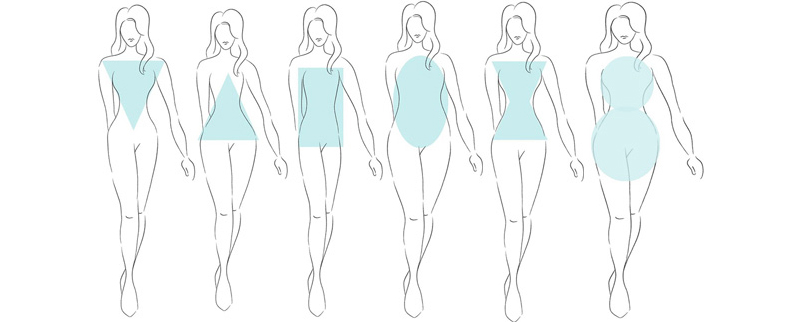 Which wedding dress style suits each body type?
The rectangle body shape (H)
Your shoulders and hips are more or less the same width and your waist is barely or only slightly marked. This is because your ribs are close to your hips, so your bust is too short to draw a waist. The good news is that with a shorter bust, you are likely to have longer legs! The perfect style for you will be a straight cut wedding dress. Most of you will think that a straight cut wedding dress means a dress with no shape, but that's not the case ladies! With wedding dresses you can play with the textures, freeing your shoulders, arms or back (or all three!).
Your dress can also be fitted down to the hips or cinched in just below the bust like empire wedding dresses.
Types of dresses to avoid: Dresses that will mark the waist, with a ribbon or corset for example, and puffy skirts that will tend to thicken your silhouette. Figure-hugging dresses such as mermaid or sheath dresses won't showcase your figure either.
Le Dressing Club's favourite: The Jonah dress by Rime Arodaky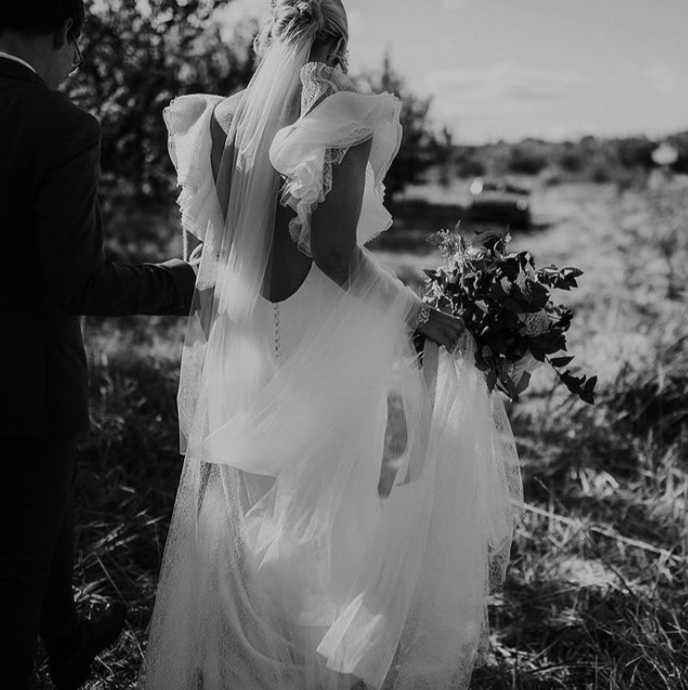 The inverted triangle body shape (V)
Your shoulders are wider than your hips - You have an athletic figure! If you are V-shaped (also known as the apple body shape), the attention can be reversed from your upper body by adding volume to your legs. That's right, the perfect wedding dress for you is a princess-style dress with a voluminous skirt, similar to Carrie Bradshaw's stunning Vera Wang dress in Sex and the City. It may be the classic wedding dress but it doesn't fit all body types.
An empire waistline wedding dress will also suit you well as long as its skirt is voluminous.  
Types of dresses to avoid: Fitted dresses such as mermaid or sheath dresses. If you have broad shoulders, cover them with either lace sleeves or a lovely white fur stole.
Le Dressing Club's favourite: The Connor dress by Maison Floret
Photo: Florent Vin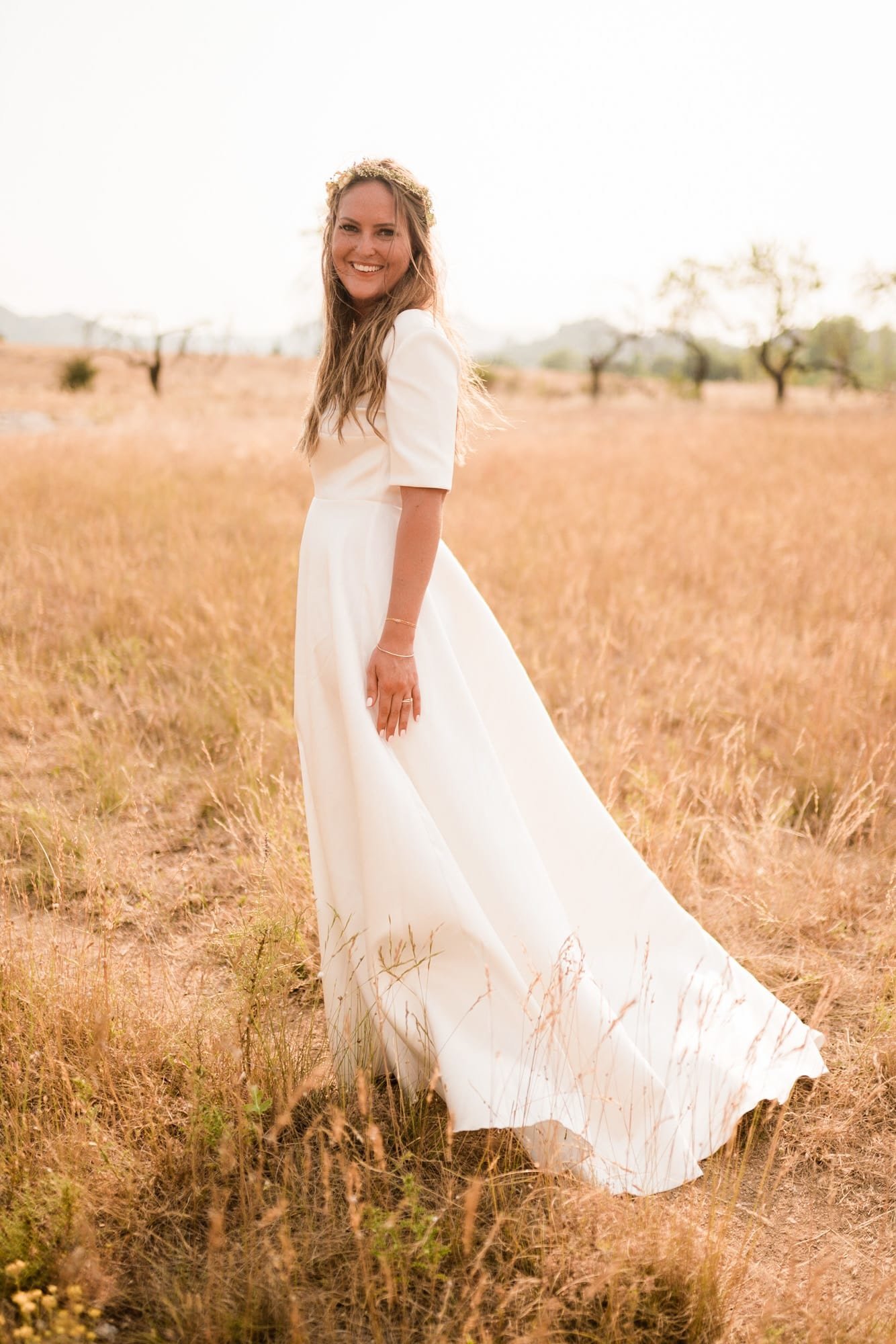 The triangle body shape (A)
Your shoulders are narrower and your hips are more generous. As opposed to the V shape, we will highlight the upper body to rebalance your silhouette. You can go for an empire dress with a simple skirt, without overloading it (no ruffles, prints or puffiness). The top of the dress, on the other hand, can be more intricate and detailed - lace, embroidery, flounces, shoulder pads, or why not stunning balloon sleeves like our Rimbaud top by Victoire Vermeulen? You can also accessorise your look with a large statement necklace or impressive earrings. The tighter the bottom part of the dress, the more volume you'll need at the top. We're thinking a stunning dramatic veil!
Types of dresses to avoid: Figure-hugging dresses such as mermaid or sheath dresses. Your silhouette would be too unbalanced (just like the V body shape).

Le Dressing Club's favourite: The Bolivar dress by Laure de Sagazan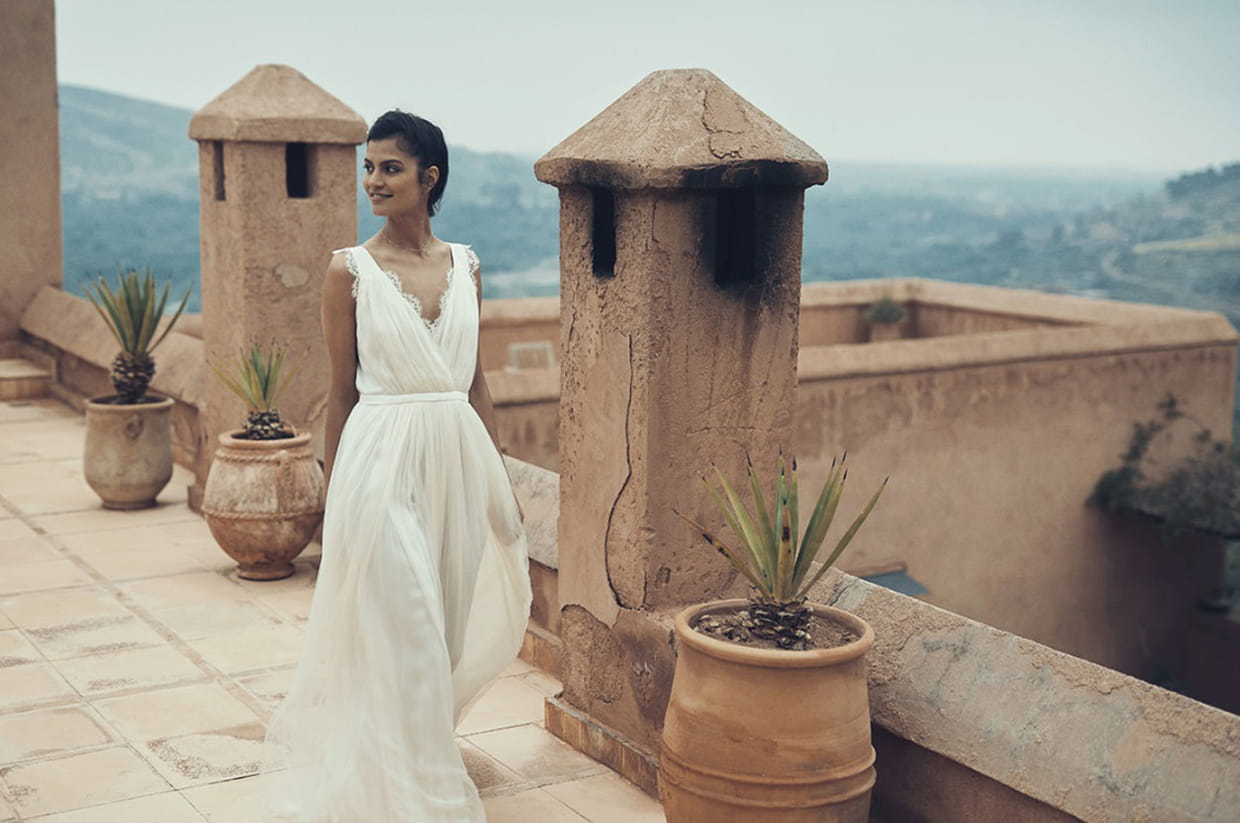 The hourglass body shape (8)
The hourglass is a harmonious and balanced figure. Indeed, you have a generous cleavage, voluptuous hips (one hell of a tush!) and a small waist. Marking your waist is key to showcase your assets! You will look stunning in a sheath or mermaid dress, as they will follow your curves while emphasising your waist. Favour a square neckline or a closed neckline with lace transparency.
Types of dresses to avoid: Emperor waistline dresses and straight-cut dresses are not your best allies. They won't cinch your waist and will make you look thicker rather than showcasing those beautiful curves of yours!
Le Dressing Club's favourite: The Sewell dress by Rime Arodaky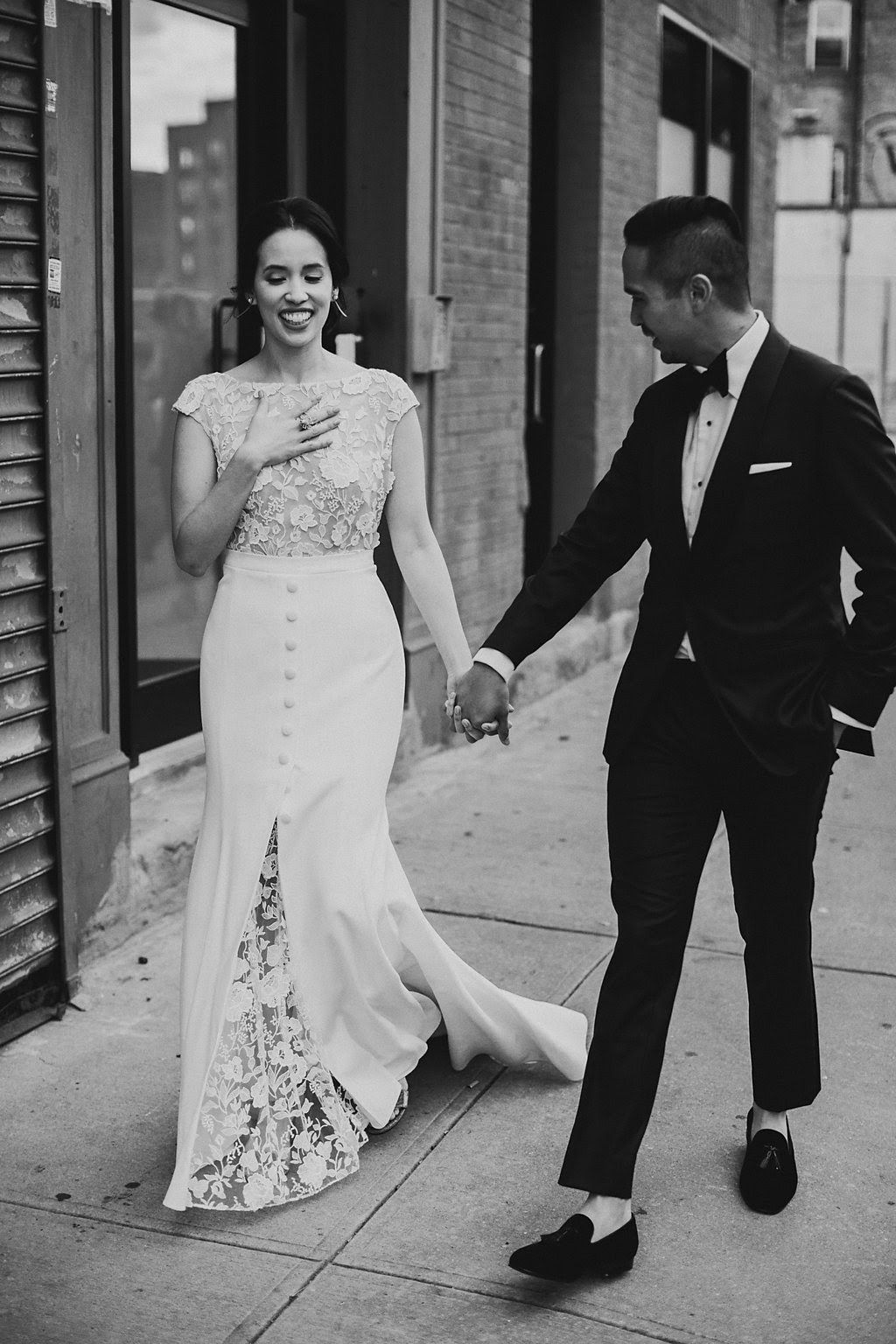 The X body shape
Also known as the 'petite hourglass', this body shape is similar to the hourglass figure, i.e. shoulders and hips in the same alignment and a small waist. The difference is you are slightly less curvy, you have a smaller chest and your stomach is more or less flat.
This is the most permissive body shape as you can pretty much wear any wedding dress style. If you have a small cleavage, you can get away with a deep neckline without it being too provocative. 

Le Dressing Club's favourite: The Mouvement dress by Donatelle Godart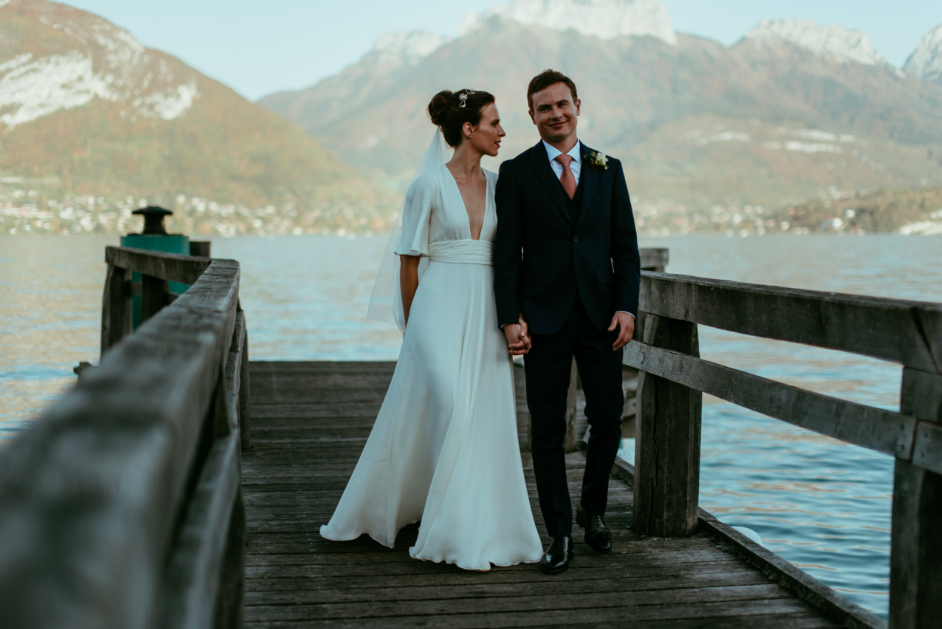 The O body shape

 
If you have a rounded silhouette, with a generous cleavage, stomach, hips and voluptuous backside, you have an O-shaped figure. You have assets and must put them forward. The wedding dress style for your body shape is the empire dress. Fitted at the waist it will showcase your bust and elongate your lower body to make it look more uniform. Read more about our empire waistline wedding dresses in our dedicated blog post. We also recommend going for light fabrics for an airy effect and covering your arms with lace sleeves.
To our O ladies, bear in mind the criteria for this body type are not limited. You can also be a H, V, A, 8 or X in a more voluptuous version, with more feminine features. So use them to your advantage! 

Le Dressing Club's favourite: The Zola dress by Laure de Sagazan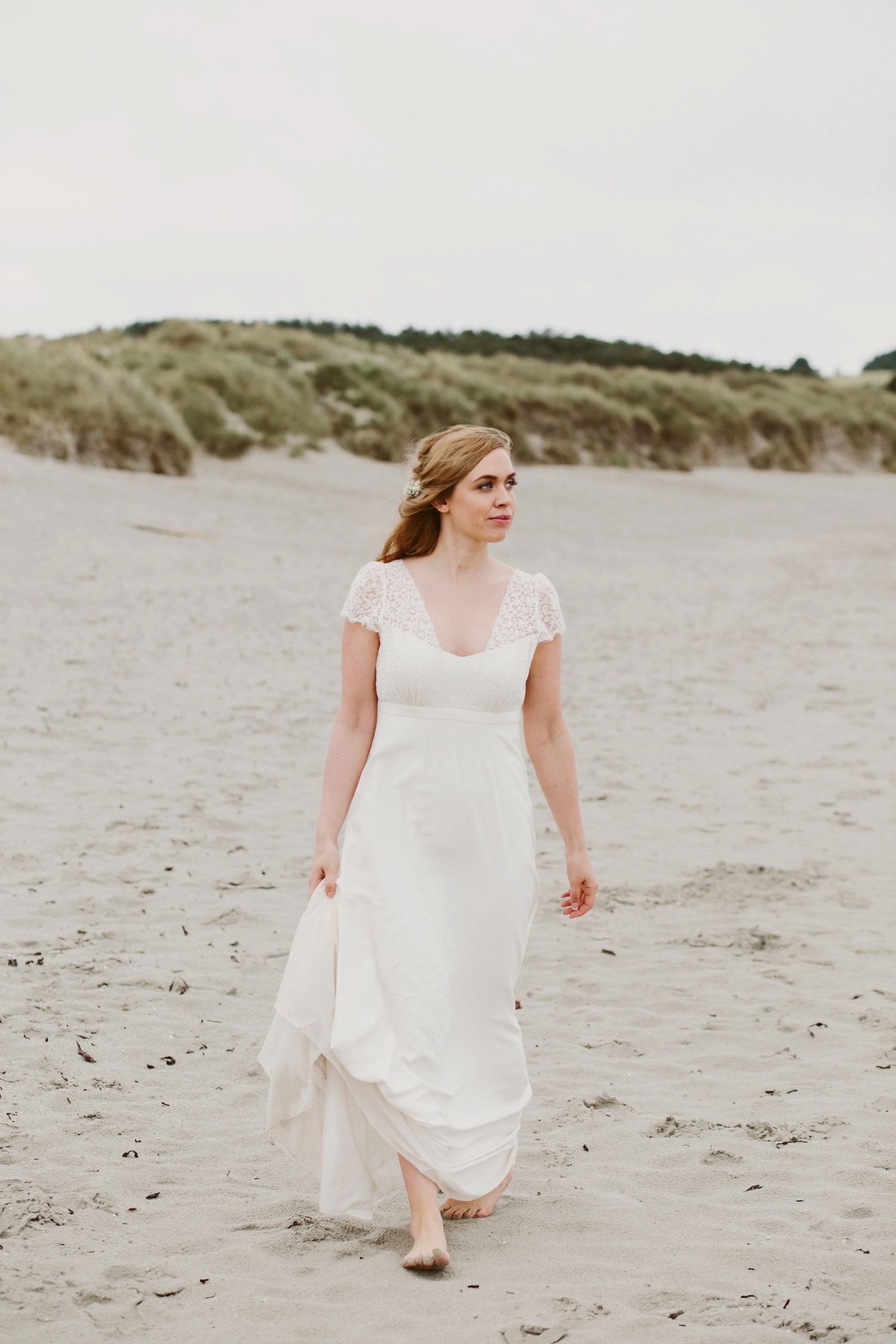 We hope our tips give you a better initial idea of what wedding dress style may suit you best. Bear in mind, this guide is purely theoretical and will in no means replace your instinct. You will truly discover which wedding dress style suits you once you try them on and see how you feel in different styles. Whatever your body type, the most important criteria is that you feel comfortable in your dress. At the end of the day, body shape aside, the right wedding dress is the one you feel yourself in.