Bérénice said YES to Thomas in her beautiful wedding dress found at Le Dressing Club, the Toscane dress by our own brand Alba.
Bérénice's look mixes simplicity and joie de vivre: a round neckline, short sleeves in Calais lace and an elegant open back with pretty button detailing - That's all our beautiful bride wished for. Our bride also chose a lovely soft knit by bridal designer Bérengère Saint Pierre for the evening reception.
At a Normandy wedding, wellington boots are an essential! 
A huge thank you to Bérénice for her trust and for sharing these stunning pictures taken by wedding photographer Charles Seguy.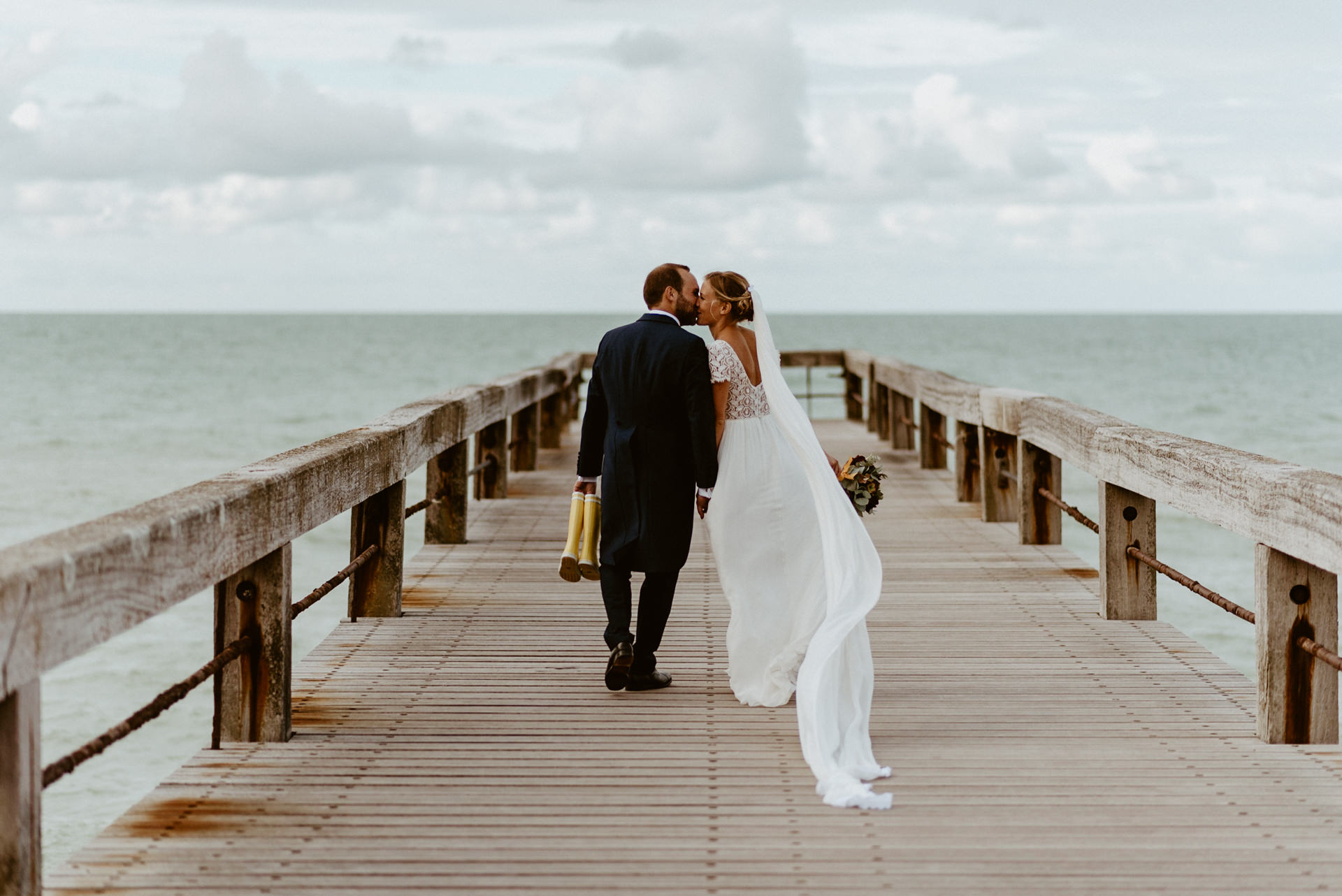 How we first met
We met through business school in Paris. We were part of our university's sailing club, both passionate about sailing and the sea, and took part in the EDHEC sailing cup at La Rochelle.
Our story began in April 2012, after spending a holiday week with friends in the mountains in March 2012. Thomas used his charm and in April, after a month and a half of flirting, I accepted his invitation for lunch where I remember he made a grated carrot salad...
The moment I knew he was the one
I'm not sure there's a precise moment when you know, I think I followed my instincts.
After the beginning of our relationship in April 2012, he went to live in Nice and then in England for 2 years, so we started our relationship long-distance. When he came back it felt obvious we were to grow old by each other's side.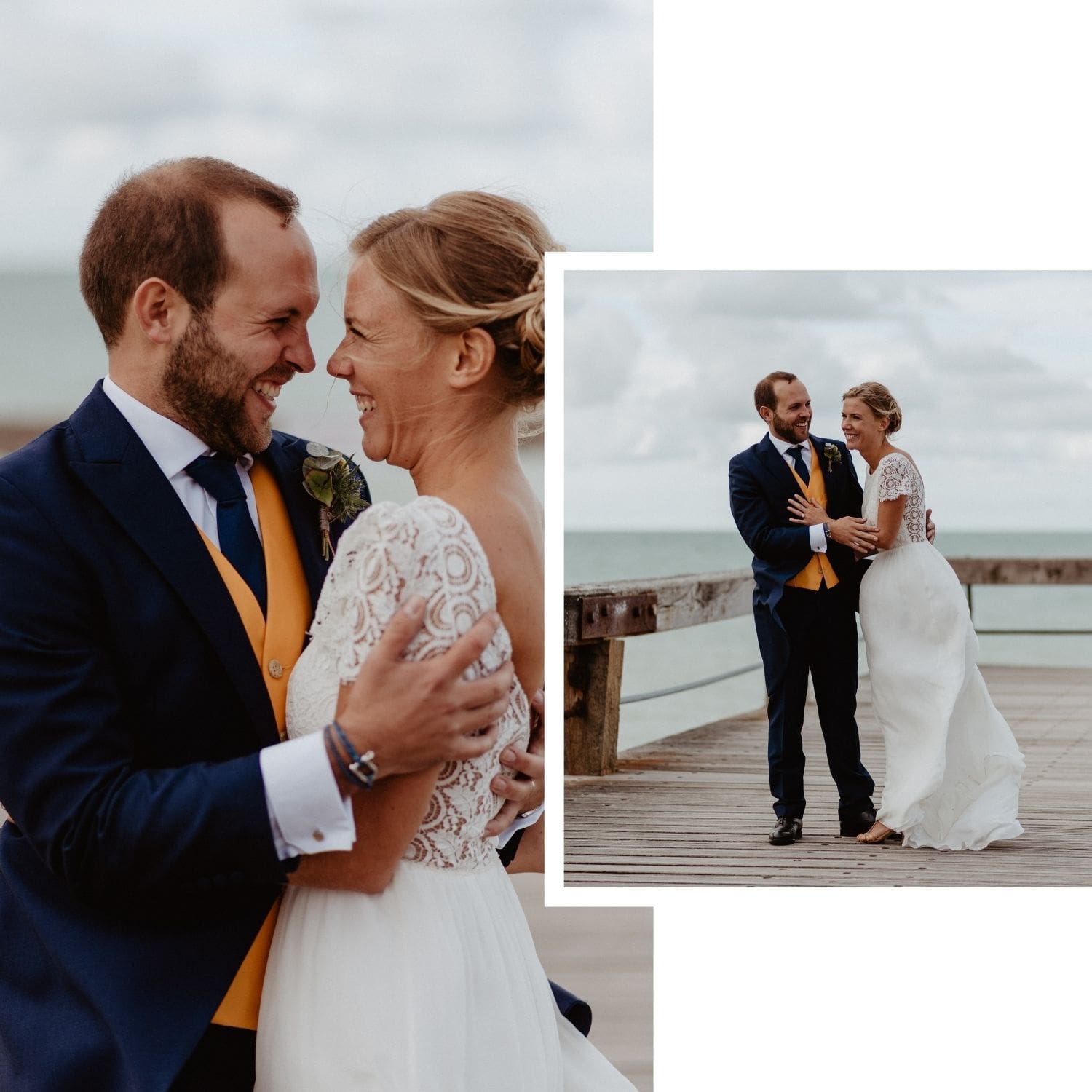 Who brought up getting married first?
I think we talked about it together, in several conversations, but I really didn't expect him to propose to me at that time. It really took me by surprise.
The proposal
After 6 years of love, Thomas took the big step. I had always said that I wanted a simple low-key proposal, anything but romantic, no weekend in Venice, gondolas, rose petals or champagne. Above all, I wanted to be surprised if he was to take the plunge one day.
On the 25th of July 2017, on my 28th birthday, Thomas decided to take me for a drink after work before going to our favourite little Vietnamese restaurant in Paris. It's a small, unpretentious but delicious restaurant which we typically go to for special occasions.
We arrived at Ecole Miliaire in Paris by motorbike, the terrace was full so we headed to the other side, La Motte Piquet, and there again, no table available in the sun (the weather was lovely that day but a bit cool). So we left on our motorbike, to return to Ecole Miliaire (yes I'm stubborn!) when suddenly Thomas stopped at the end of the Champ de Mars to "take a picture of the Eiffel Tower". Surprised, I laughed and made fun of him because we are lucky enough to see it every day, I didn't understand his sudden urge to take a picture. I stayed on the motorbike waiting for him, watching the Asian tourists take pictures of each other.
Thomas soon came back after "taking his picture" with a ring in his hand and asked me if I wanted to be his wife. I burst into tears and asked him if it was a joke. He had to ask me again because I hadn't answered under the emotion (I remember his heart was beating x10,000).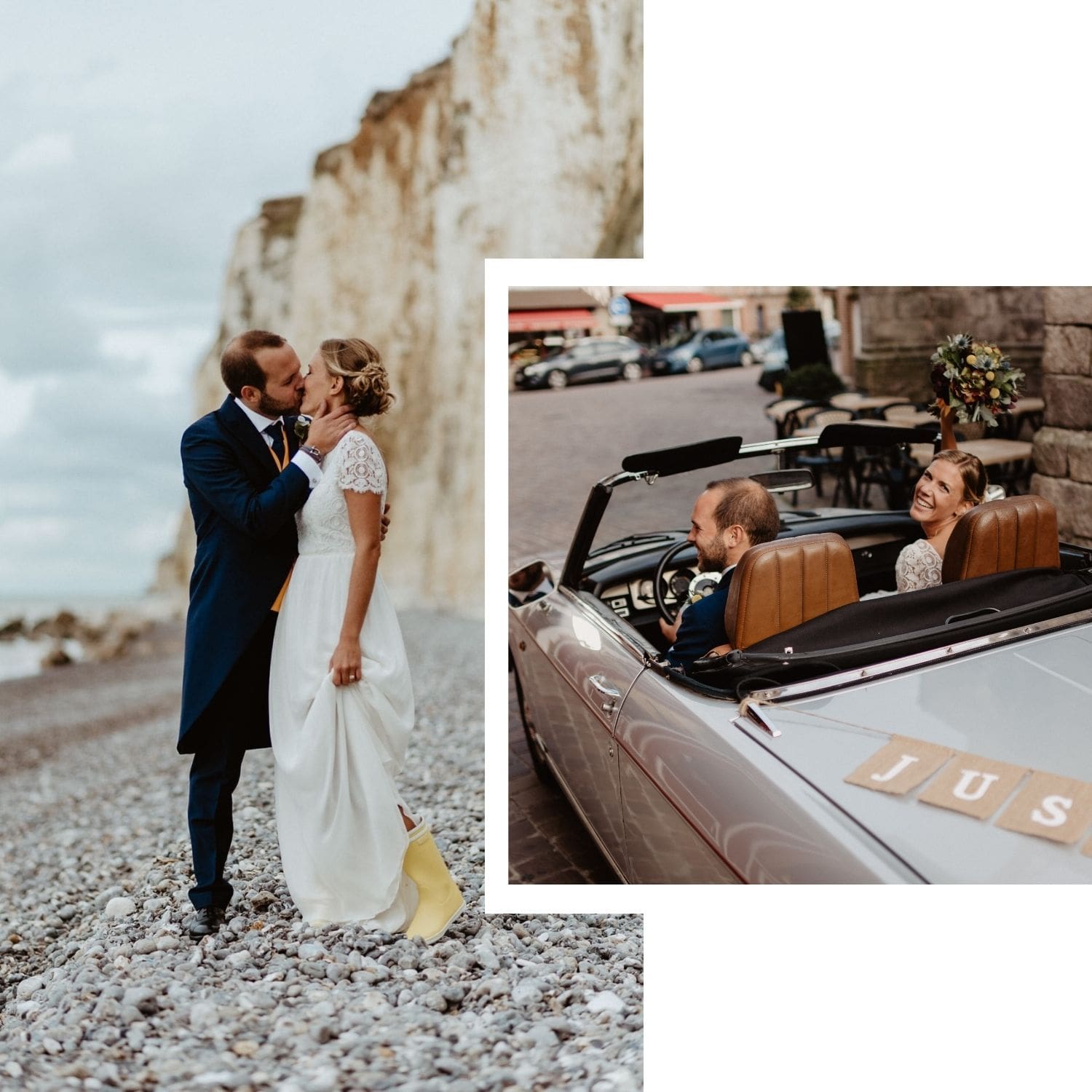 Choosing the Wedding Dress
After the surprise proposal, everything seemed blurry in terms of wedding planning. It was one of my bridesmaids, Anastasia, who wanted us to go and try on wedding dresses for fun. She was the one who told me about Le Dressing Club. I came for a fitting with Anastasia, my sister and my mother. It was all so simple: I selected 3 dresses I liked and after trying them on, I chose the second one - Alba's Toscane dress. It felt like an obvious decision, I felt so good in it. The material reminded me of my blanket when I was little, which sounds odd but felt incredibly comforting.
I didn't set my eyes on any other dresses, I didn't go to any other wedding dress shops or fittings. It was very straightforward and just felt right.
I was also lucky enough to find the jumper of my dreams, an incredibly soft oversized cardigan from the French bridal designer Bérengère Saint Pierre, which kept me warm that September evening in Normandy.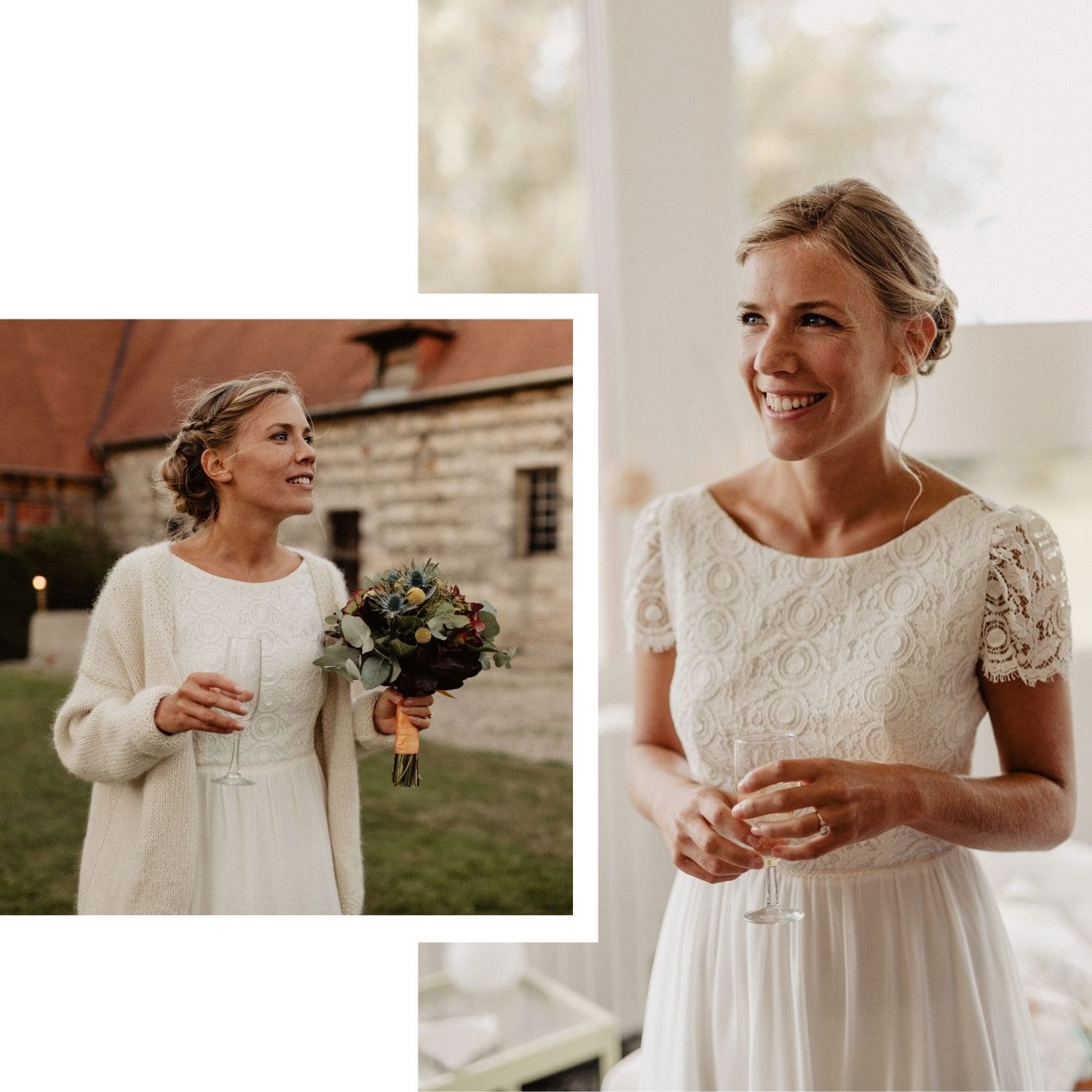 The wedding planning process
Thomas and I both wanted the same thing for our big day: for everyone have a good time.
We very quickly agreed on the location in Normandy, where I spent all my holidays and weekends since I was little and Thomas fell under the charm very quickly. We then selected the wedding providers. I have always followed my instincts and I trust people easily, so I went with the flow. We met some amazing people through the process, especially our photographer and video maker. We built a special bond with both of them.
The most beautiful memory of the day
The moment we left the church, all our cheering guests gathered around us. And when it was just the two of us during the couple's photoshoot session, just before the cocktail party. I loved this intimate and privileged moment after the emotion of the ceremony and before the rest of the festivities.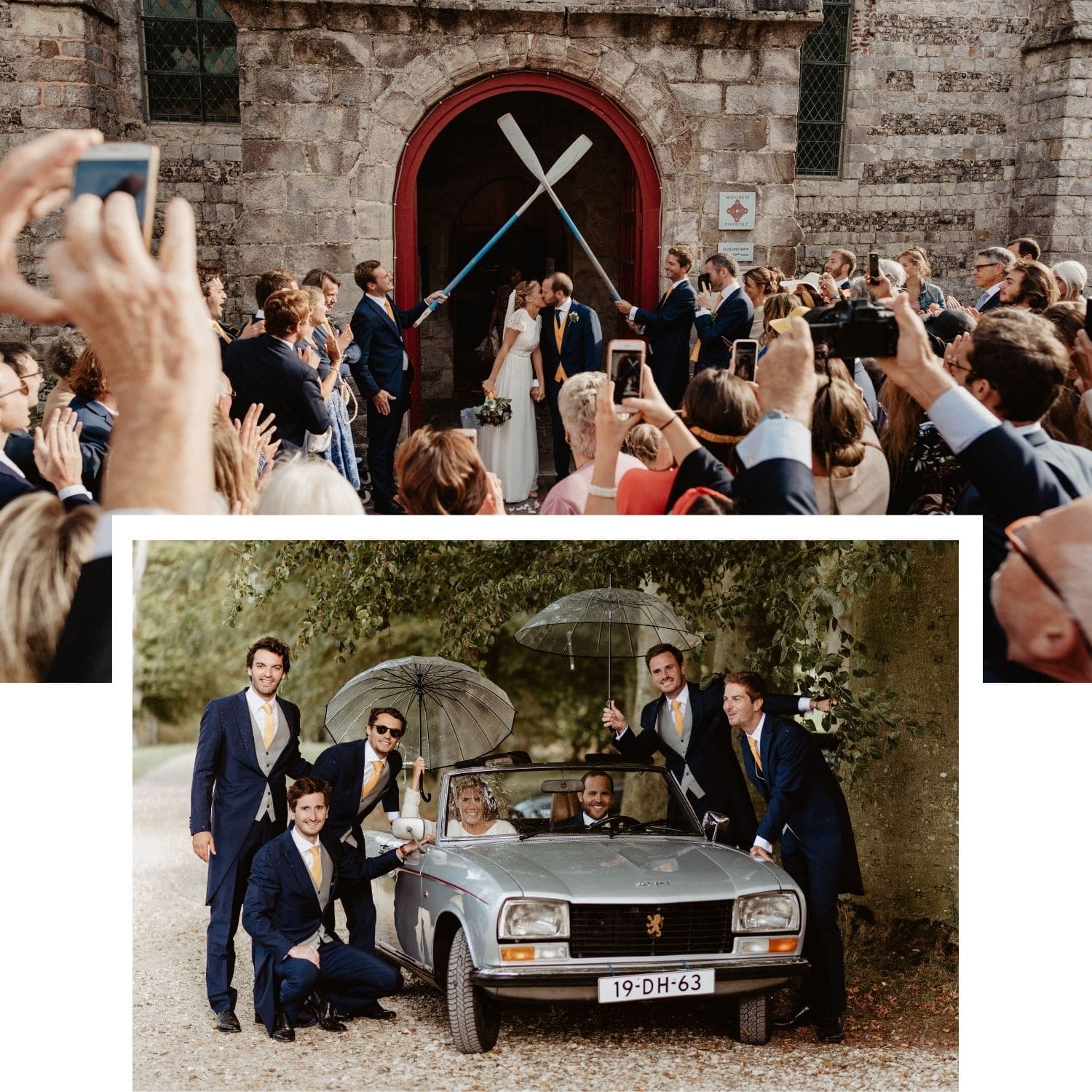 An idea we should steal off you
We decided to spread our wedding over 3 days so we could enjoy our guests. We had our church wedding on Friday 14th September 2018, followed by a cocktail and party. 
On Saturday, we planned a brunch at our village sailing club, by the sea and on Saturday evening, a giant casual barbecue, surrounded by all our friends and family! It was great!
On Sunday we were able to take the time to say goodbye to all our guests.
Your advice for brides-to-be
My advice is to make the most of every moment, from the wedding preparation to the day after. Savour this special and timeless day, where kindness and love are the key words.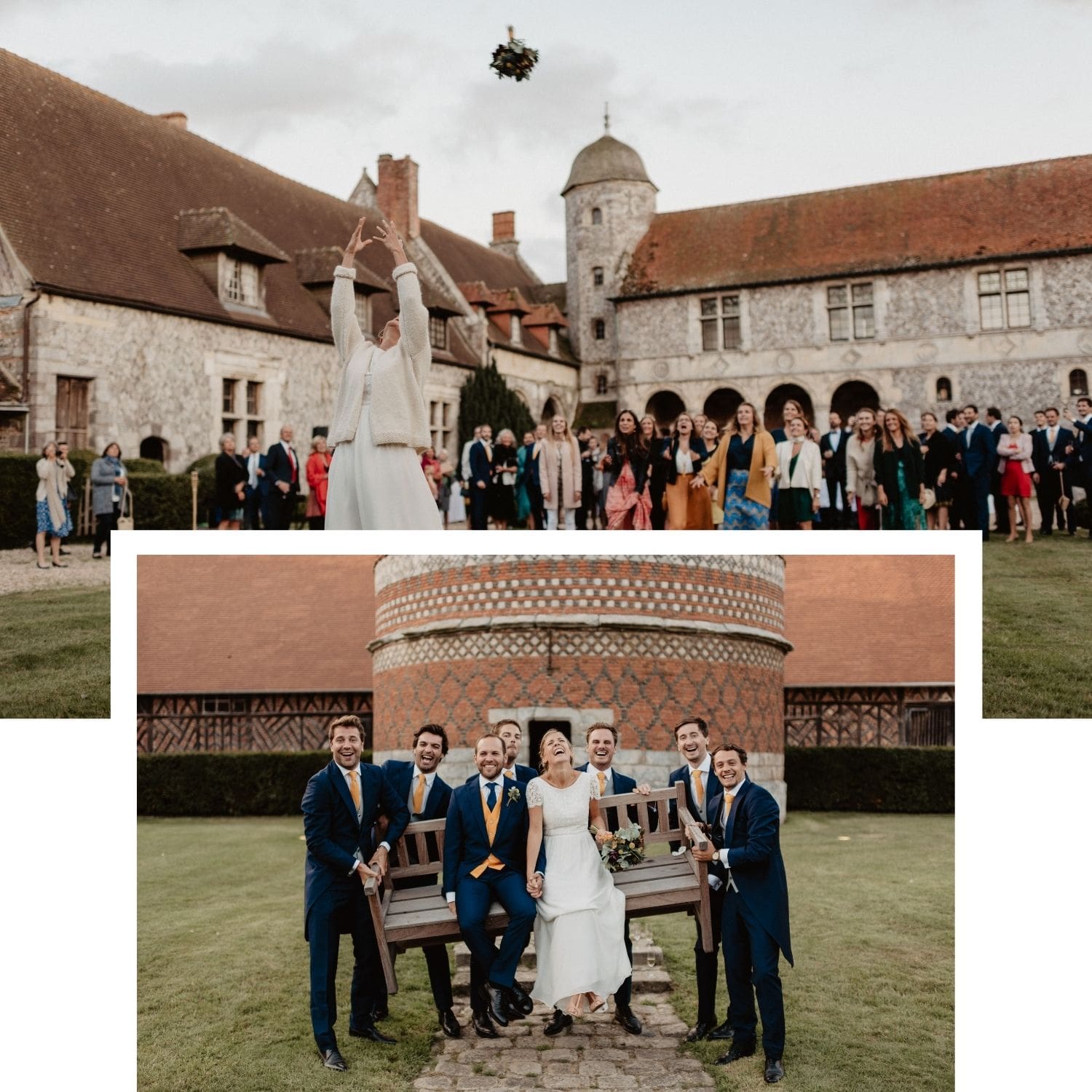 Stay tuned for more bride stories!