If you're expecting a bit of a chill on your wedding day, a second layer needs to be on your wedding accessories list. You won't want your red nose or shivering distracting your guests from the ceremony or party. Don't forget a comfortable bride is a happier bride!
Here are our bridal cover-up ideas to get you from ceremony to reception. From stole to jacket, there's a bridal cover-up for every bride. In fact, you'll want to wear these stylish pieces regardless of the weather forecast and keep them for years to come!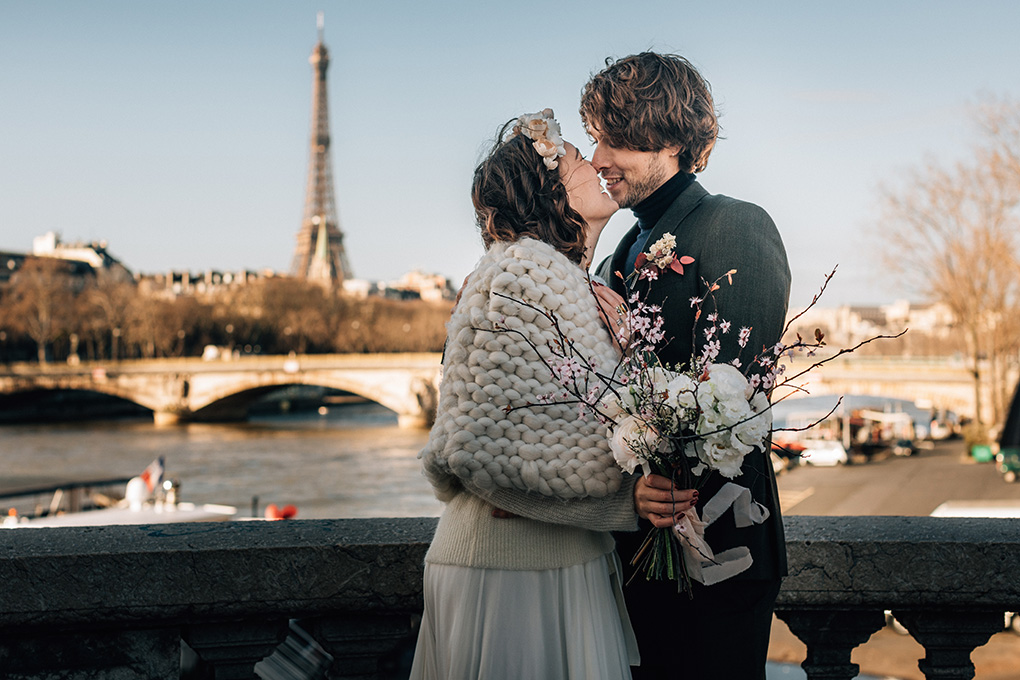 Photo: Pierre Atelier
Bridal stoles and shawls
If you are getting married in the Summer and are afraid that a gentle breeze might make you shiver, you can opt for a delicate stole to complete your bridal look. Light and elegant, it will compliment your dress beautifully provided you choose the right colour and ensure harmony between the stole and your wedding dress. Large enough to cover your shoulders and arms, you can also wear a cashmere or mohair stole for added softness and warmth. 
If your stole hides pretty detailing on your dress, try to choose one that is made from lighter, more transparent fabric. If, on the other hand, your dress is quite simple and streamlined, you can have fun accessorising it with a more intricate, opaque and maybe warmer stole. 
Stoles are also good options if you are having a church ceremony and would like to cover your shoulders or revealing neckline. Some of our brides fall in love with very daring gowns but do not dare to choose them for their church weddings. If you have the right cover-up, you can follow your heart and choose the less conventional dress that you fell in love with in the first place.
In the same spirit, you can opt for a shawl. A little larger than a stole, it will guarantee comfort and warmth for your special day. You could always swap from a stole to a shawl should the weather get worse or the night colder. 

Le Dressing Club's favourites: 

This cream-coloured stole is made in France and will be very pleasant to wear on your big day. Triangular at the back, it will bring warmth to your bust and shoulders.


This lace-like mohair stole is lighter but will keep you warm on a breezy Summer's night.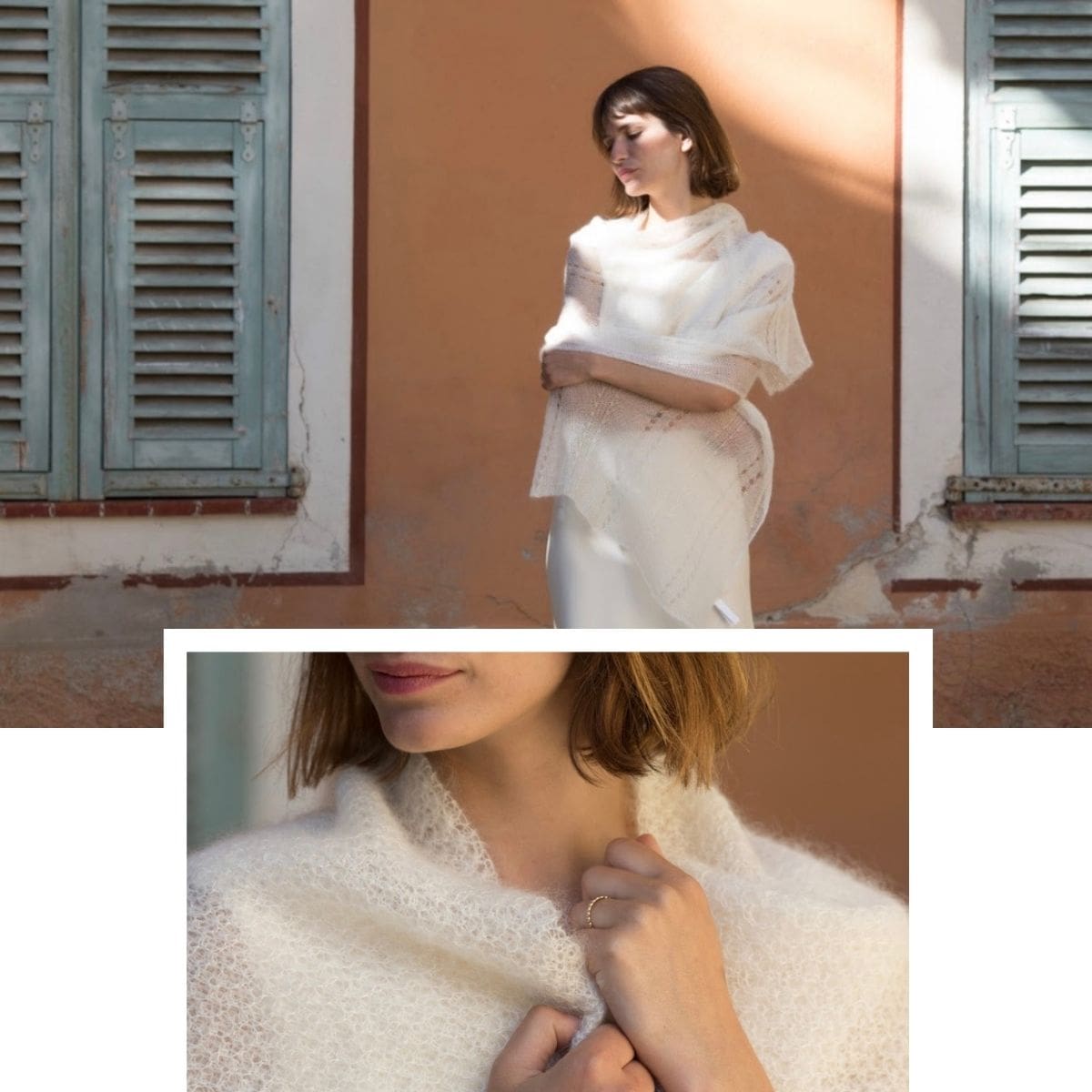 The bridal bolero
If you're looking for a little more structure, you can opt for a small bolero that will cover your shoulders and warm you up just enough. We recommend the bolero if you have a lovely short-sleeved dress. Long sleeves will keep you warmer, especially if they are made of crepe. The bolero can be tied at the front and also allows you to cover your neckline for a religious ceremony and/or to protect you from the cold. 
To add a little personal detail, you can add a small brooch to fasten the bolero at the neckline. It can be a beautiful gold family brooch or a personalised brooch.
Choose a beautiful bridal bolero that will go well with your wedding dress, is the same colour tone and does not overload your outfit too much. You can play with details and materials to add a little something to your look and when you get too hot, just take it off. Modern or more traditional, there are so many designs to choose from that you are bound to find what you're looking for! 
The bridal cardigan or jumper 
Although stoles and boleros are perfect to keep the chill off your back and shoulders, we're completely in love with gorgeous bridal knits.
With or without sleeves, open at the back or not, it's up to you to choose what will best suit your wedding. Don't choose anything too warm if you're getting married in the Summer or you will quickly want to take your jumper off. There are, for example, small embroidered transparent cardigans that simply add an extra layer to your outfit. However, if you are expecting it to be windy or rainy, make sure you cover yourself with warm materials such as mohair or wool. 
Knits can be more or less white, depending on the colour of your wedding dress. Ivory or pristine white, choose something that will match your dress to preserve your bridal look's harmony. As for the shape, you can opt for a beautiful soft cardigan, long sleeves with pockets, a long or a cropped jumper, or a kimono style cardigan. Be careful however not to make a distinction with short sleeves that can be seen under the jumper, making unsightly little folds appear on the arms. 
 
Le Dressing Club's favourites: 


- Laure de Sagazan's Valmy cardigan
This Laure de Sagazan baby alpaca knitted cardigan is soft and warm. Made in France, this piece will be perfect for your bohemian country wedding. Best part? Wear it with a pair of jeans beyond your wedding day!


- Rembo Styling's Jacky jumper
We love this delicate wool and cashmere jumper by Rembo Styling. Its V-shaped back will allow you to highlight your wedding dress if it also has a low back. You can even complete your boho bridal look with a pretty back drop necklace.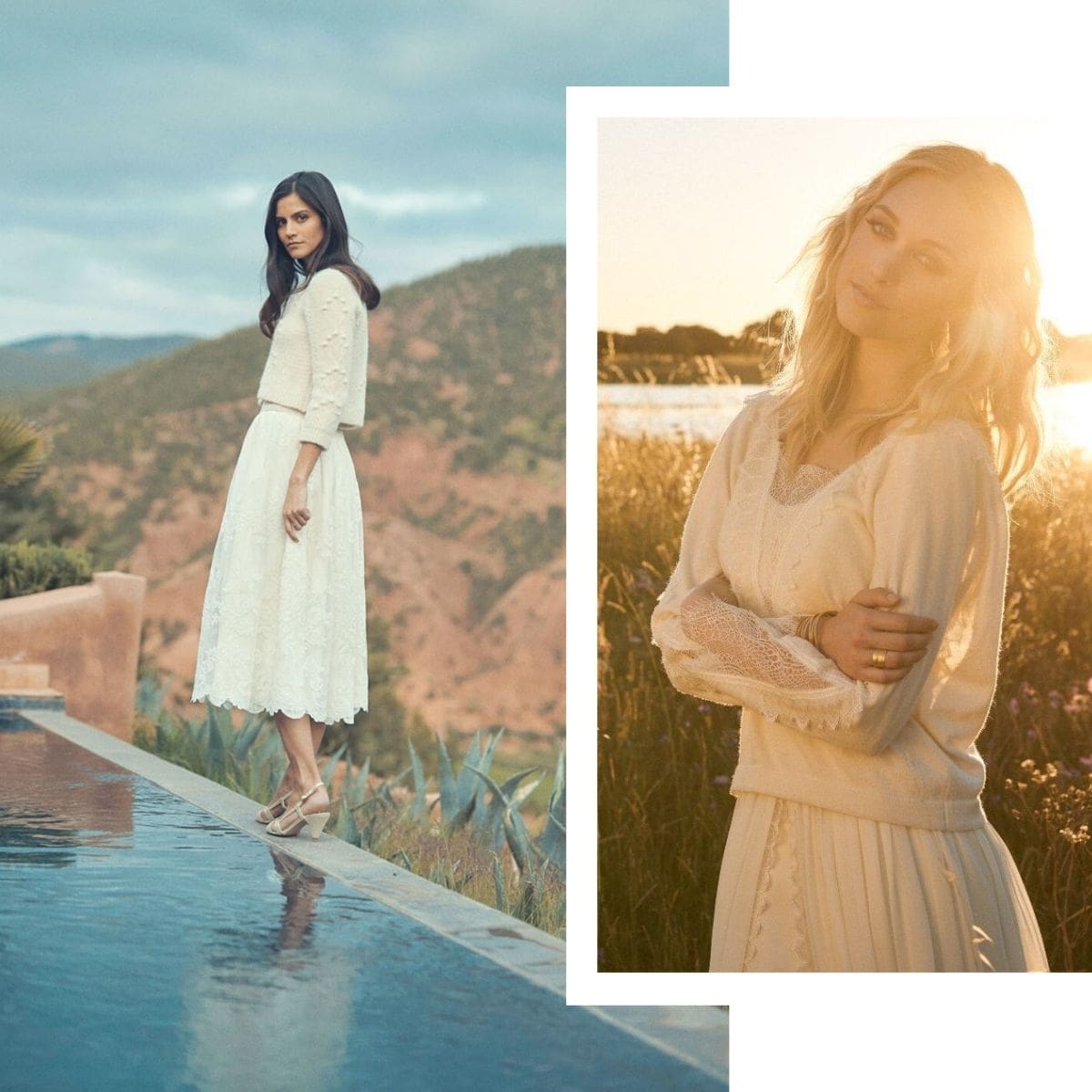 The bridal jacket
If you are not a stole or knit type of girl, the bridal jacket may be for you. Perfecto, bomber or blazer, a simple piece will enhance and could completely transform your bridal look! Modern and very elegant, wearing a jacket adds originality to your wedding dress. A jacket will also be warmer than a stole or bolero. Paired with a pretty short dress for example, it will allow you to be trendy while showcasing your legs. 
You can choose a white jacket to match your outfit and stay in the same tones but you can also break away from convention by opting for a black perfecto or even a denim jacket. It all depends on your personality and the theme of your wedding. 
There are so many different styles and options, you can have fun finding the piece that will compliment your dress the best or even get one custom-made!
Le Dressing Club's favourites:


- Maison Floret's teddy jacket
The trendy white bomber jacket is made of silk organza. It's modern sportswear yet feminine look will allow you to assert your style on your special day! 


This timeless long-sleeved white jacket works over pretty much anything - a lovely long dress or even paired with a jumpsuit. It will keep you warm throughout your big day.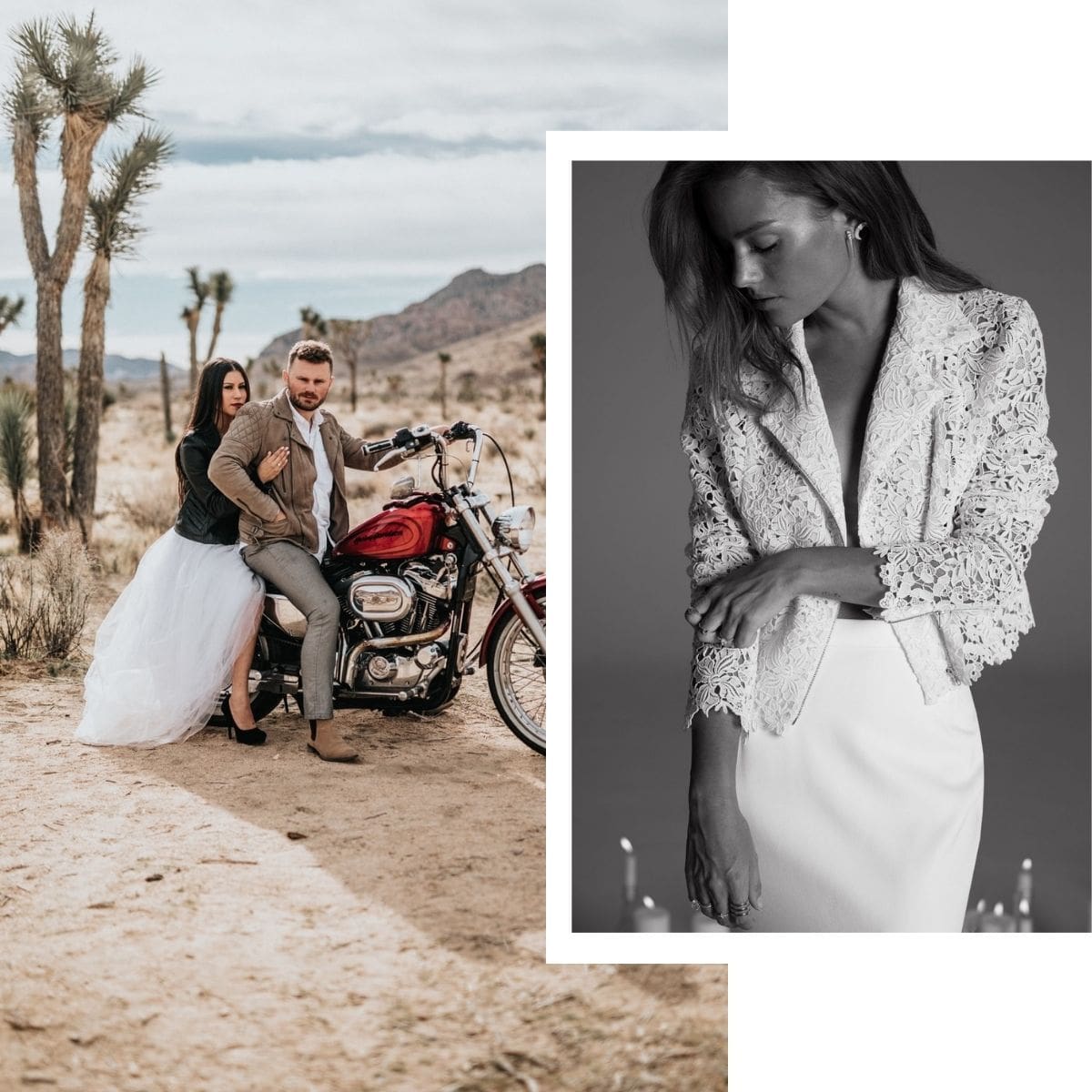 The Winter coat
If you are getting married in Winter or if the weather is expected to be very chilly, we advise you to play it safe and opt for a cozy white coat. Try to find the right pieces that create a beautiful harmonious look. You will be kept warm throughout the day and can take your coat off as soon as the warmth of the party reaches you.
You can also layer several layers on top of each other if you're afraid to be cold on your big day. Be careful though, given this special day is full of emotion and energy, your body temperature can rise quickly. There's no need to wrap yourself up too much, you'll be warm in no time!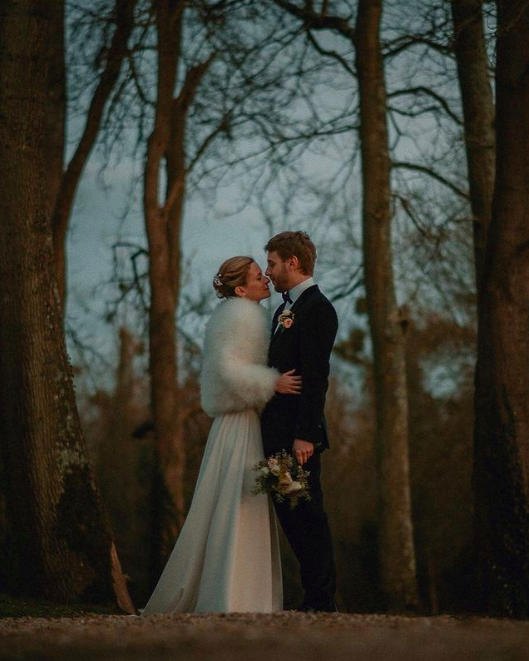 Photo: @coolkidsonthedancefloor
Bridal coat: Maison Floret



Adapt to your style
Don't forget the most important thing is to feel comfortable and feel yourself in your wedding outfit whether it's a dress, a jumpsuit or separates! To complete your look, choose what suits you best. You don't have to wear a stole, you can find a beautiful jacket that suits your style. Piece your look together according to your usual style.
You can play around with materials and colours to create a unique look that your guests are bound to remember. Do it your way and your wedding will 100% be a reflection of yourself.



Personalise your bridal cover-up
To hold on to a beautiful souvenir of this day for years to come, you can have fun customising your stole, jumper or jacket ahead of your wedding day. Whether it's by adding lace, wording or embroidery, create your own unique look. For example, have your initials or a beautiful "Yes" embroidered with your favourite coloured thread. You could personalise your jacket with sweet words or a meaningful picture. For modern brides willing to steer away from the traditional bridal look, use colourful paint to write "bride-to-be" or "just married" on the back of a denim or leather jacket. Your pictures will be beautiful and will truly reflect who you are!
Le Dressing Club offers a selection of bridal jumpers, cardigans or delicate shawls. You're welcome to try them on with your wedding dress during your fitting to see which style suits you best, or simply order from our online shop.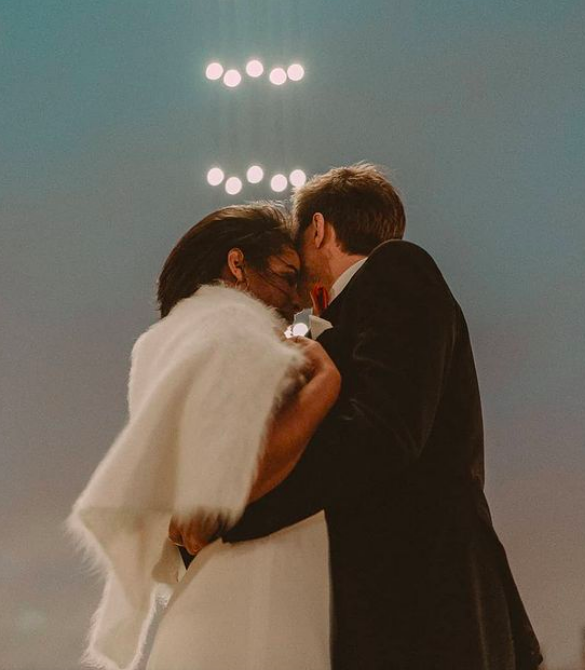 Photo: @coolkidsonthedancefloor