What underwear should I wear to feel confident on my wedding day?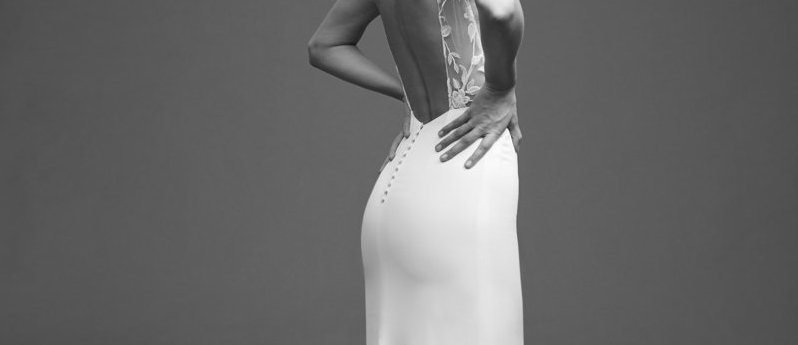 As we all know, white outfits don't let anything pass unnoticed, especially not black underwear under a tightly-fitted dress. In this blog post we talk about the different solutions on offer in order to feel great in your underwear. The most important thing is for you to feel comfortable on the big day, whether you are wearing a dress, a jumpsuit or a top and skirt set.
Then comes the question of the right lingerie. Today we have many options such as a body, boy shorts, classic brief, hipster, bikini, thong or nothing at all. It's up to you.
However, for some of us, shaping underwear is a handy option for sucking you in while being comfortable throughout the day. 
We recommend selecting and trying on ahead of your wedding which shapewear will be the most suitable for your wedding outfit so that your attention can be put elsewhere on the day. Indeed, let's avoid shapewear that will scrunch up and leave annoying folds under your dress.
Shaping underwear
Thigh-firming and tummy-smoothing underwear is no longer taboo. Shapewear is a great ally for showcasing your curves and sculpting your silhouette. 
Far from constraining you to a given silhouette, whether idealised or trivialised, it allows you to embrace your figure while adapting it to your outfit. Shapewear can indeed be a good option if you choose a dress by Rime Arodaky, for instance. Given her dresses are more or less figure-hugging, it can be reassuring to wear shaping underwear underneath to smooth your tummy or camouflage your love handles. 
There's absolutely no shame in wearing sculpting undergarments. Whatever your size or body shape, shapewear is a personal choice that in no way questions your legitimacy to wear a specific dress. 
At Le Dressing Club, we also advise you to pay close attention to the size and extent of your shapewear. Indeed, if you opt for high-waisted underwear for increasing support but your wedding dress has transparent detailing in certain places, you wouldn't want your shapewear to peak through. The same applies to dresses with open-backs where you wouldn't want your shaping underwear making an appearance by your lower back. It is hence important to always plan ahead rather than winging it on the day.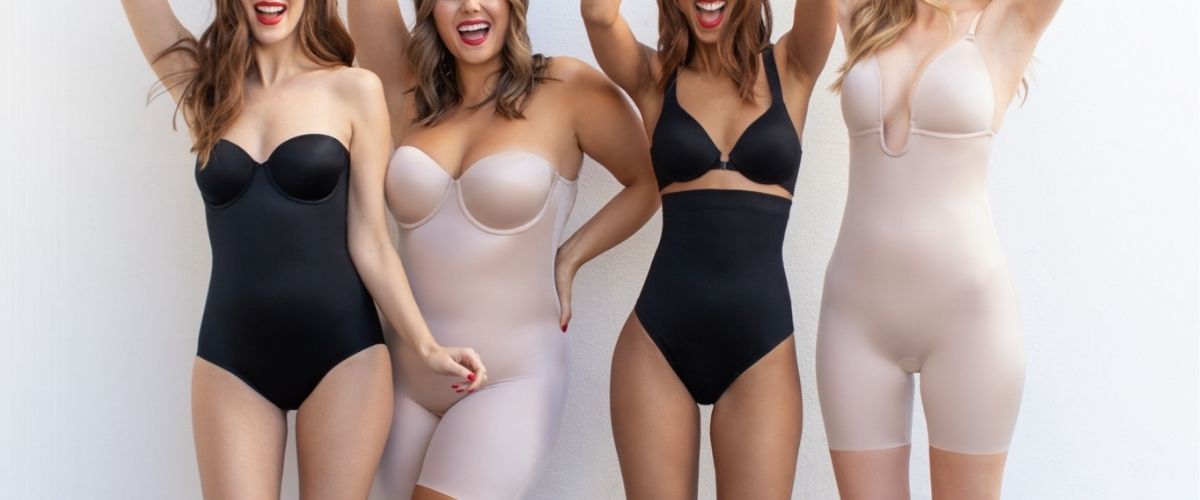 Photo: SPANX
The different types of shapewear
There's a whole plethora of shaping underwear options out there and each shape is designed to meet a particular need.
If your aim is to smooth down your tummy, there's no need to bother with a full bodysuit, high-waisted panties should do the job. Ideally, you should opt for seamless panties that make them invisible, or a thong shape.
If you wish to slim your waistline and hide your love handles, then opt for a shaping bodysuit. It will showcase your figure and support your cleavage at the same time. 
If you want to smooth your saddlebags, choose a mid-thigh short shape, perfect to harmonise the curve of your thighs.
As for the colour, we advise you to choose shapewear close as possible to your skin colour in order to make it invisible under your wedding outfit.
What materials should you be wary of?
Shaping underwear is especially relevant under tight-fitting wedding dresses, such as mermaid or sheath dresses that tend to highlight your figure. Such shaped dresses are often made from crepe - a fabric that will showcase your curves, but can have a tendency to slightly hug your body, sometimes creating a transparent effect on the skin. Wearing shaping underwear will unify the fit and drop of the dress on your silhouette.
Fabrics such as satin or silk crepe are other fine materials to be wary of. They provide you with guaranteed comfort and elegance, but can easily mark the skin. For those who want to avoid having to suck their tummy in for 6 hours straight fearing it will pop out after the cocktail party, we recommend choosing shapewear that will allow you to relax from the ceremony to the party!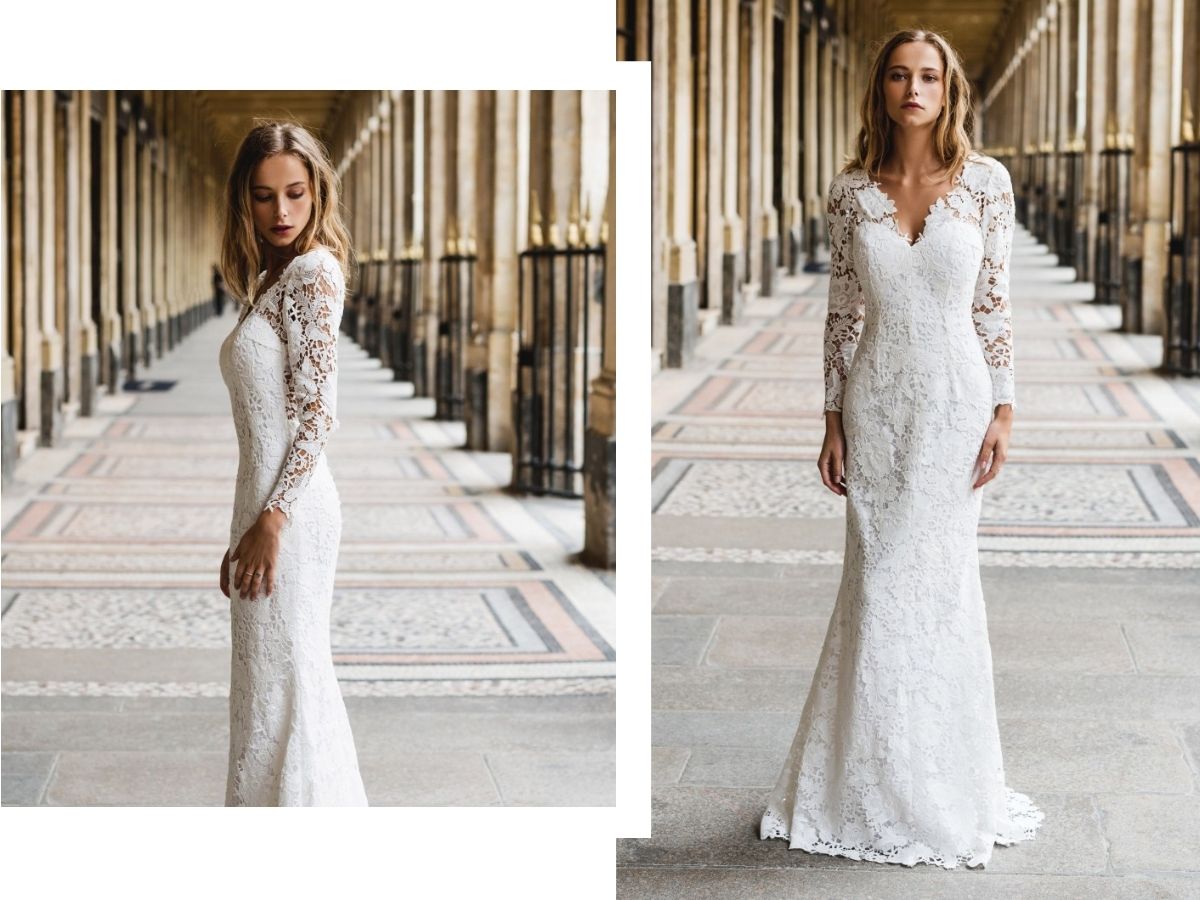 Our beautiful Harpe wedding dress

The best shapewear for your wedding day

 
From our experience and based on the feedback of many of our brides, we recommend the following brands specialised in shaping undergarments.


Wacoal, founded in 1946 by Koichi Tsukamoto, offers luxurious lingerie and shapewear. At the time, nobody was making bras in Japan so he started making one that he gave to his wife as a gift. The brand launched the tummy girdle in 1965 and since then, has continued to innovate through new technologies and fabrics to meet women's evolving needs. 
Wacoal offers a variety of shapewear styles in different cuts, colours and levels of support. It's up to you to choose what suits you best. We have a selection of Wacoal shapewear available at our showroom or on our online shop.


Spanx was born in 1998 out of the frustration of its creator: Sara Blakely was getting ready for a party when she realised she couldn't find the right underwear to provide a smooth look under her white trousers. After testing and experimenting with the help of her scissors, she developed her brand SPANX, which today offers bras, underwear, leggings, activewear and even clothing.
Their shapewear solutions offer a variety of silhouettes, colours and 3 unique compression levels: Smooth - which offers a light hug, Shape - which offers a firm hug, and Sculpt - for a super firm hug.


Because we obviously had to include a French brand! Etam also offers shapewear in various lengths, providing different levels of support. We love the fact they offer several shades of nudes, bronze and browns, catering to an array of skin colours. Their shapewear is a great option for smaller budgets, without compromising on quality.
Still not convinced by shapewear?

 
You can always go down the traditional underwear route. If your wedding dress is fitted over your hips and backside, make sure you consider wearing seamless underwear or a thong to avoid VPL or bumps & lumps.
When it comes to underwear on your wedding day, the key rule is to choose the colour closest to your skin colour. Forget even white lingerie, it shows more than you'd think!
Above all, the most important thing is to be comfortable and self-confident on your wedding day. The right shapewear can guarantee both! We all want to look our best on our wedding day and if shapewear can be your best ally, why not give it a go? That being said, feel free to choose the underwear that suits YOU best. If you feel most comfortable wearing delicate lacy lingerie, than that's the way to go!



We would love to hear about your experience and feedback so that we can continually improve our bridal tips and recommendations!