Impress your guests with these mouthwatering wedding cakes and dessert tables

You've sorted out your wedding dress, chosen your bridesmaids and found the perfect venue. There is only one step left: choosing your wedding dessert! The bride and groom's dessert is the perfect ending to your wonderful wedding meal. What better way to treat your guests one last time before firing up the dance-floor?
In order to choose the right wedding dessert, you need a cake that will satisfy your guests while reflecting you and your partner's personality. A traditional tiered wedding cake, a bohemian naked cake, a classic French croquembouche… What to choose between the endless options? Are you after something unique or do you prefer staying traditional? Here are some traditional and less conventional wedding dessert ideas.
The traditional tiered wedding cake
The typical wedding dessert is a tiered cake covered with buttercream and decorated with pretty pieces. Based on a sponge cake and covered with buttercream, this cake can perfectly adapt to all wedding themes and tastes. Sophisticated and aesthetic, you can personalise this dessert according to your desires.
Add a fun contemporary touch to the traditional wedding cake by sprinkling your tiered cake with colourful confetti. A pretty pastel cake sprinkled with colourful sugar beads is trendy and original.
A Spring wedding means strawberry season! Combine them with whipped cream and a light sponge cake and you have a fresh and succulent berry layer cake. Strawberries and raspberries go very well with dark or white chocolate, and combining them guarantees a tasty cake bound to please everyone !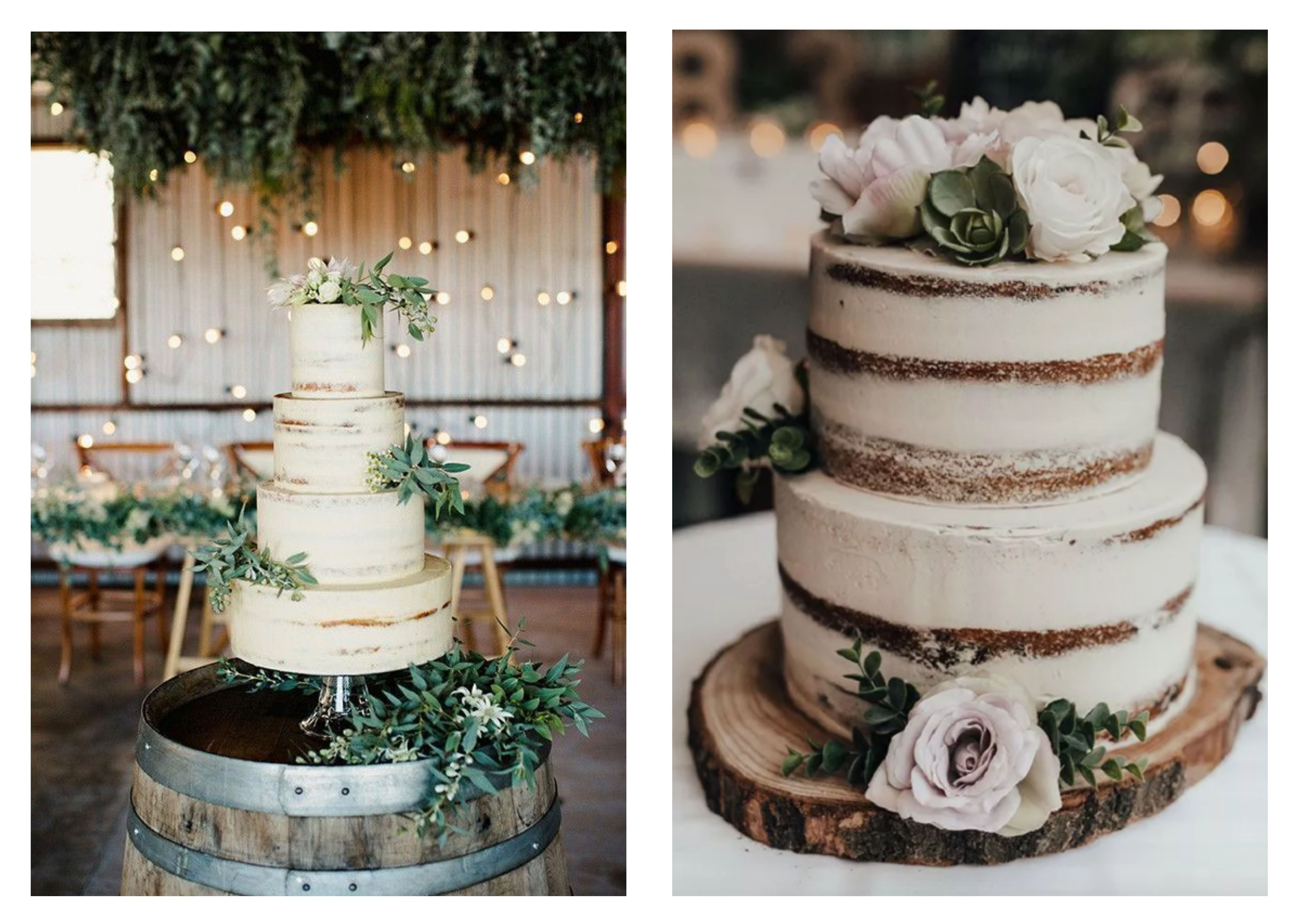 Cake by Sweet Bones

Have you heard of naked cakes? We love the recent trend for un-iced cakes with minimal frosting on the outside, showcasing the real beauty of the cake itself. The imperfect uneven frosting gives the cake its beautiful unfinished look.
Perfect for a rustic barn wedding, a garden-inspired dinner or even a elegant soirée, the naked cake gives you endless possibilities in terms of decoration. Work with your baker to achieve a look that reflects your personality and wedding style. Garnish your naked cake with fresh flowers for a simple and refined look. Your guests will love this light dessert, which fits in perfectly with the romantic atmosphere of a wedding. You can even decorate with flowers that match your wedding bouquet.
Why not choose a chocolate version filled with ganache to put your spin on the traditional vanilla naked cake? A chocolate naked cake is sure to seduce your most gourmet guests.
The French Croque en Bouche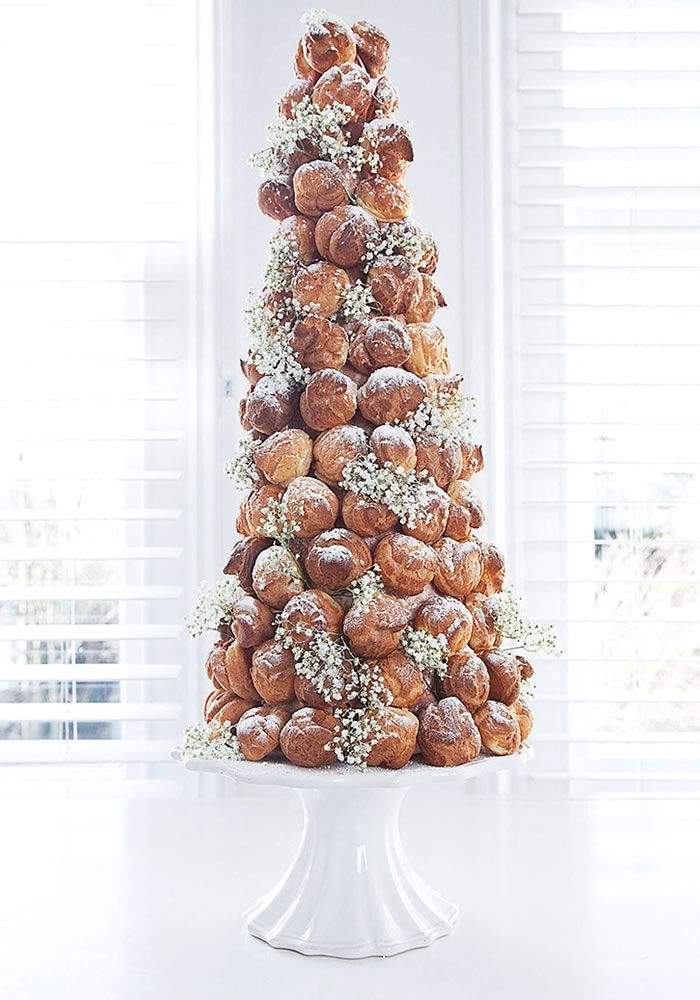 Turns out the traditional French wedding dessert is actually not a cake! Known as a pièce montée meaning "mounted piece", it is an impressive sculpture of mounted small choux pastry buns typically served at French wedding receptions. In England it is alternatively known as Croque en Bouche which means "a bite in the mouth". 
If you are looking to add a classic French touch to your wedding, this is definitely the dessert you should choose. The creme-filled choux and nougatine caramel used to stick them together to form a tower are so delicious! It is often decorated with flowers or coloured to tie into your wedding theme, and is usually rolled out on a large table accompanied with sparklers and smaller finger-food desserts.
Although a pièce montée won't be particularly original in France, it sure will be anywhere else! The choux tower is a true crowd-pleaser: moreish, refined and exquisite, this iconic dessert is known and loved by all. 
Order your French Croquembouche from Boulangerie Jade in London ! Choose your choux filling flavour from classic crème patissière to white or dark chocolate ganache.
The macaron tower
Want to dazzle your guests with a less conventional centrepiece than the French croquembouche? Look no further: the macaron tower is made for you. Some newlyweds get pièce montées made out of macarons to add their own touch to a classic architectural tradition. Modern, romantic and glamorous, this colourful showstopper will be the highlight of your wedding evening. These little refined delicacies will be sumptuous assembled in a beautiful tower.
Match these dainty and delicious treats to your wedding's colour scheme. In addition to playing around with colours, have you thought about playing with shapes to make your wedding dessert look like no other? Forget the traditional pyramid, make the layout unique and decorate your pièce montée with ribbons, flowers, anything is possible!
This wedding dessert will be a real eye-catcher as your guests come choose their favourite French macaron flavour.
A dessert table display to make your wedding reception unforgettable !
Mini fruit filled verrines, panna cotta, bite-sized choux filled with vanilla cream, a selection of beautiful cakes... The dessert table for your wedding reception is THE gourmet solution for all lovers of sweet delicacies! Your guests' taste buds will be delighted!
The dessert table has the benefit of offering a wide range of desserts to meet all tastes, while bringing a specific attention to staging and decoration. Here are a few ideas of gourmet delicacies you can incorporate to your wedding dessert table.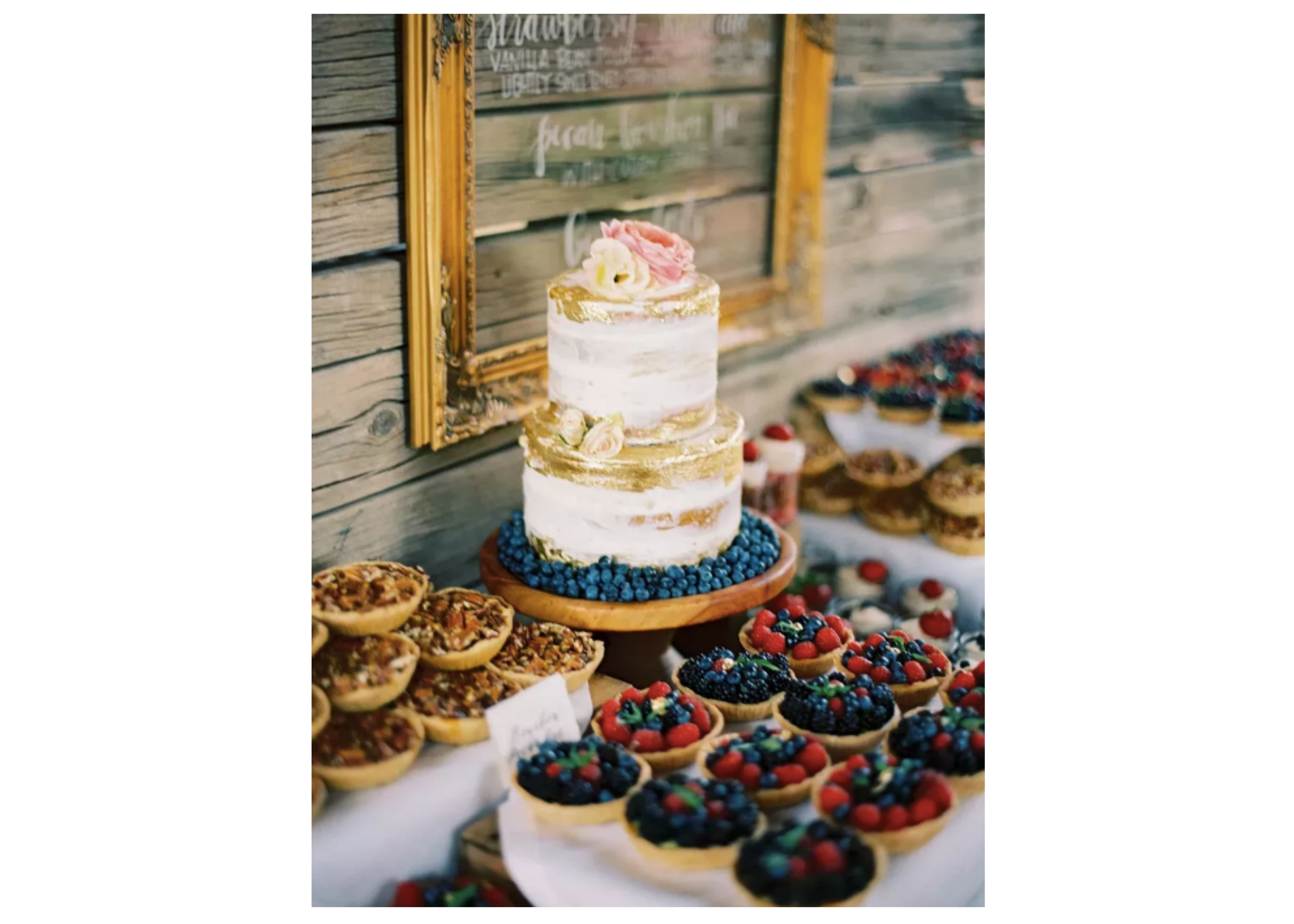 We love this cake display by Miel Bakery based in London
Verrines
Another popular French wedding dessert is a selection of verrines. a terrine is an appetiser or dessert that consists of a number of components layered artfully in a small glass. Play around with textures, flavours and colours. Get imaginative and recreate deconstructed versions of your favourite desserts such as cheesecakes or crumbles. Vanilla coffee, speculoos cream, chocolate raspberry, the possibilities are endless!
Petits fours
Want to surprise your guests with a colourful dessert table with a variety of French patisseries? Create a buffet of petits fours! A petit four is a small bite-sized confectionery served at the end of a meal. Mini tartelettes, mini eclairs, mini mille-feuilles, chocolate strawberries, you can gather a multitude of your favourite desserts on your table. Guests will enjoy tasting several bite-sized gourmet desserts!
Cupcake Tower
Give your wedding dessert display a whimsical touch with a unique assortment of cupcake towers. After a copious meal, your guests will want to finish the meal on a sweet note. Light and easy to nibble, play around with the cupcake icing and decorations to fit with your wedding theme. Trust us, your cupcake tower won't stay full for long! 
Doughnut Tower
Everyone loves doughnuts. Why not make them the star of the show at your wedding? That way you are sure to add a unique touch to your dessert table. Have a selection of different flavours or create your own 'limited edition' wedding doughnut flavour your guests will remember forever.
Rustic cake buffet
Have you planned a rustic country wedding? Match your wedding dessert to your theme by organising a rustic cake buffet at the end of the meal! It will allow your guests to help themselves amongst the cake flavours they prefer.
Use wooden boxes to display the cakes and other treats made using family heirloom recipes to add a truly personal touch to your country wedding.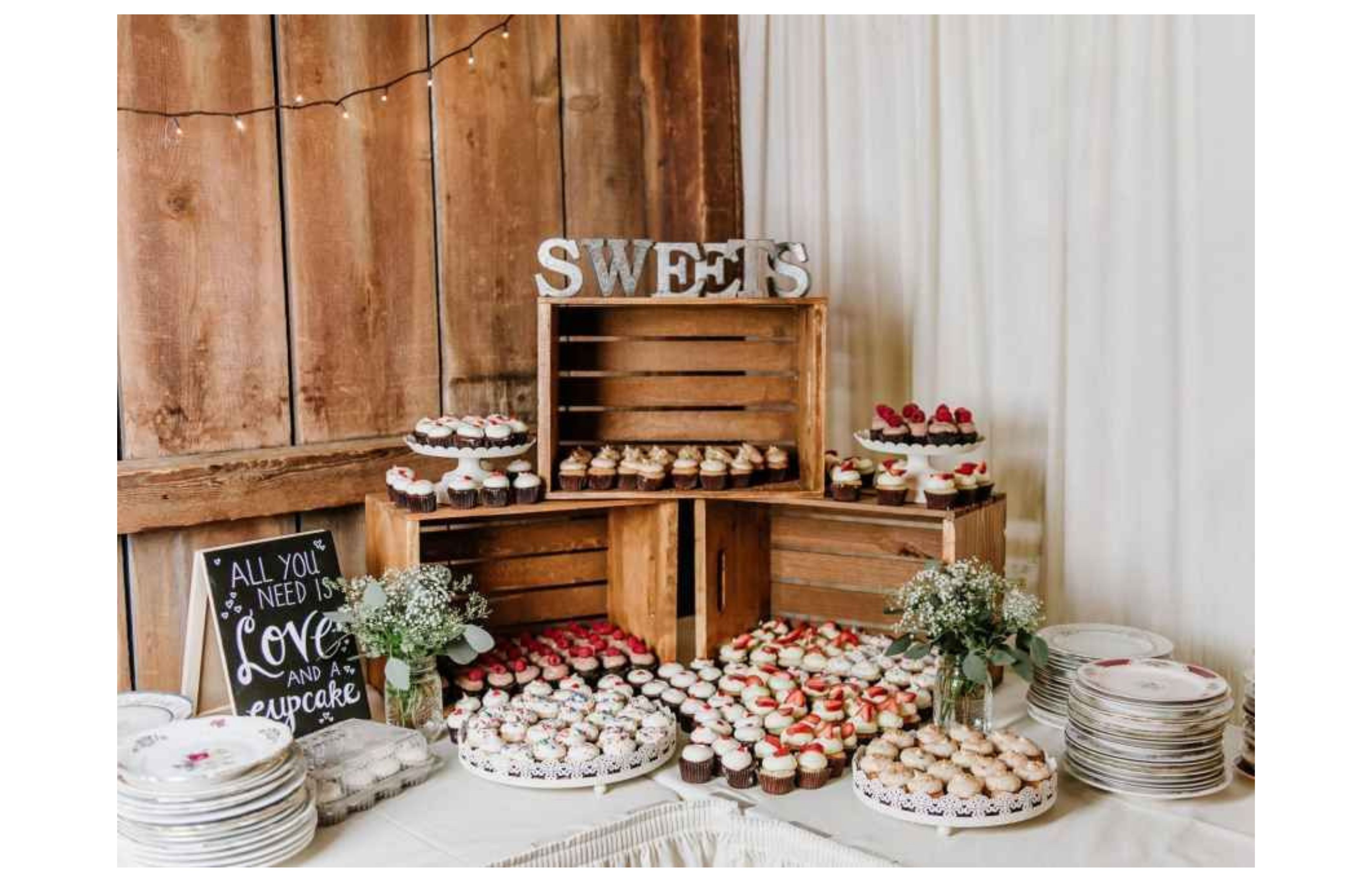 If you want to go all out on your wedding dessert, you could organise an animated dessert stand. We're thinking an ice-cream parlour offering custom-made ice cream cones to your guests, a chocolate fountain, or a cocktail bar to get the party started and smoothly nudge your guests to the dance-floor.
Gourmet gifts
Your guests are delighted with their wedding meal and dessert. But have you thought about giving out wedding favours so your wedding day is remembered forever?
We love the idea the idea of a gourmet wedding guest gift. Match your wedding favours to your wedding cake or dessert. If you have chosen a macaron tower as your wedding dessert, give your guests a pretty box of two macarons to take home. This gift will remind your guests of the sweet moment you shared around your wedding dessert.