Le Dressing Club is head over heels for Manon Gontero's Urban / White wedding dress collection and campaign that embarks us on an urban rock'n'roll journey!
For their 2019 collection, the Marseille-based fashion house flew to London. 
In line with her couture background, the designer conceives a daring, sensual and modern bride. Fluid and sexy cuts that awaken each bride's ultra-femininity.
We caught up with the young French bridal designer to discover more about her label and unveil her electrifying 2019 collection. A selection of samples from this collection is available at our London showroom. A fitting coincidence as the collection was shot in London and the dresses are named after London neighbourhoods!
With stunning pictures courtesy of Soulpics, Manon Gontero tells us more...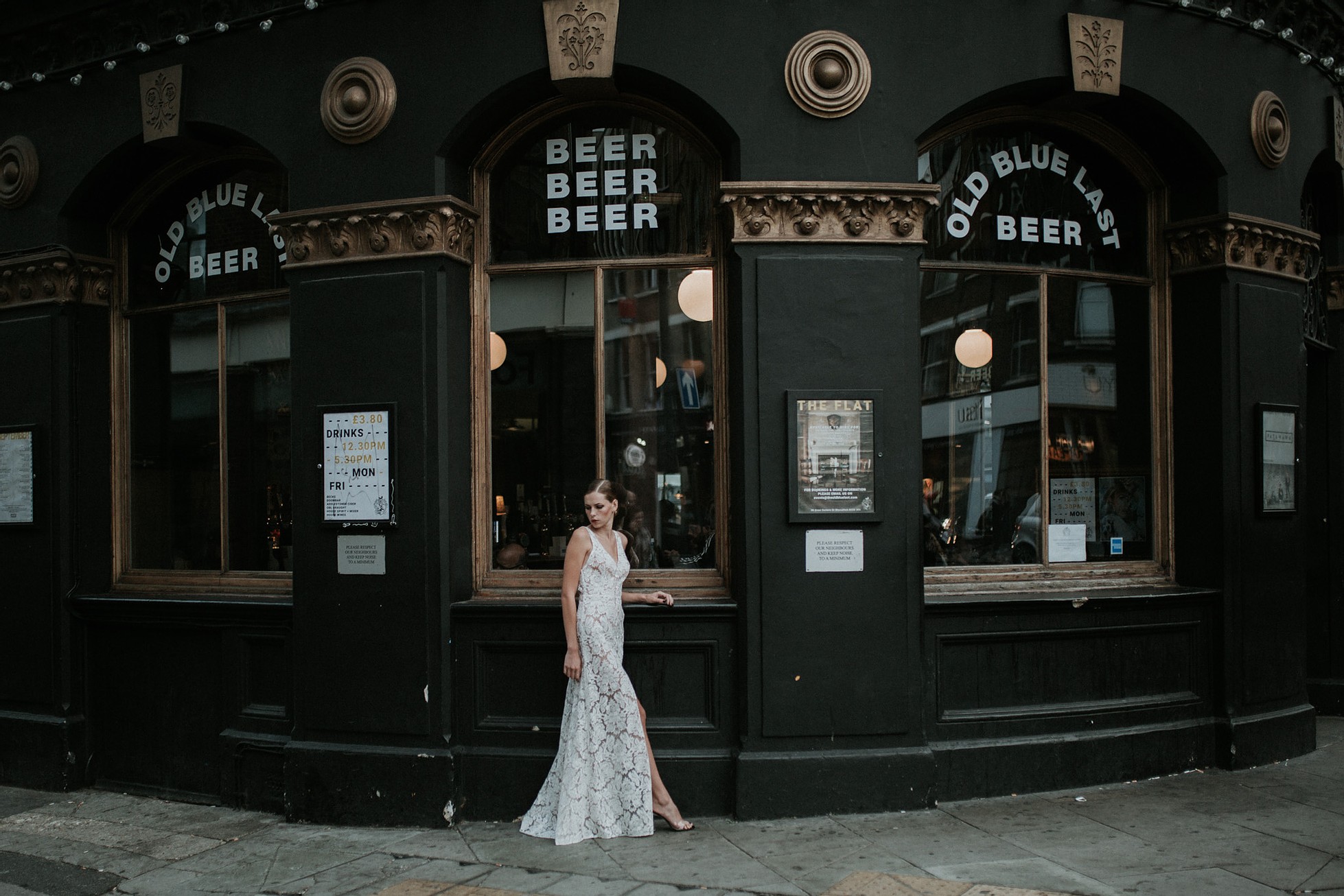 What made you want to create wedding dresses?
My passion for sewing and the Couture world. The bridal scene is actually a lot more fun and less conventional than you'd think. Brides are becoming more modern, increasingly daring and in search of originality. You can do whatever you want with wedding dresses. There are no rules.
How would you describe your style and Manon Gontero wedding dresses?
Feminine and sexy dresses with a rock'n'roll essence. Fitted dresses that follow the body's silhouette. I'm an advocate for assertive ultra-femininity!
I really like offbeat designs. I am quite daring when it comes to transparency, sexy and rock'n'roll dresses. I want to bring a modern side to wedding dresses because things evolve. I get a lot of inspiration from ready-to-wear and designs around the world. In France, we're more conventional, we follow more codes, whereas foreigners are a bit crazier.
A few words that describe your 2019 Urban/White collection?
The dresses are luminous and feature embroidery, sometimes sequins and pearls. My desire was to imagine fresh and modern pieces with clean cuts while incorporating some subtle detailing.
What were your inspirations when designing this collection?

 
I was inspired by everyday life. I wanted to incorporate dimensions of everyday clothes into the wedding dress scene. The aim was for women to have a point of reference and to be able to draw inspiration from ready-to-wear trends while adding a bridal touch through embroidery.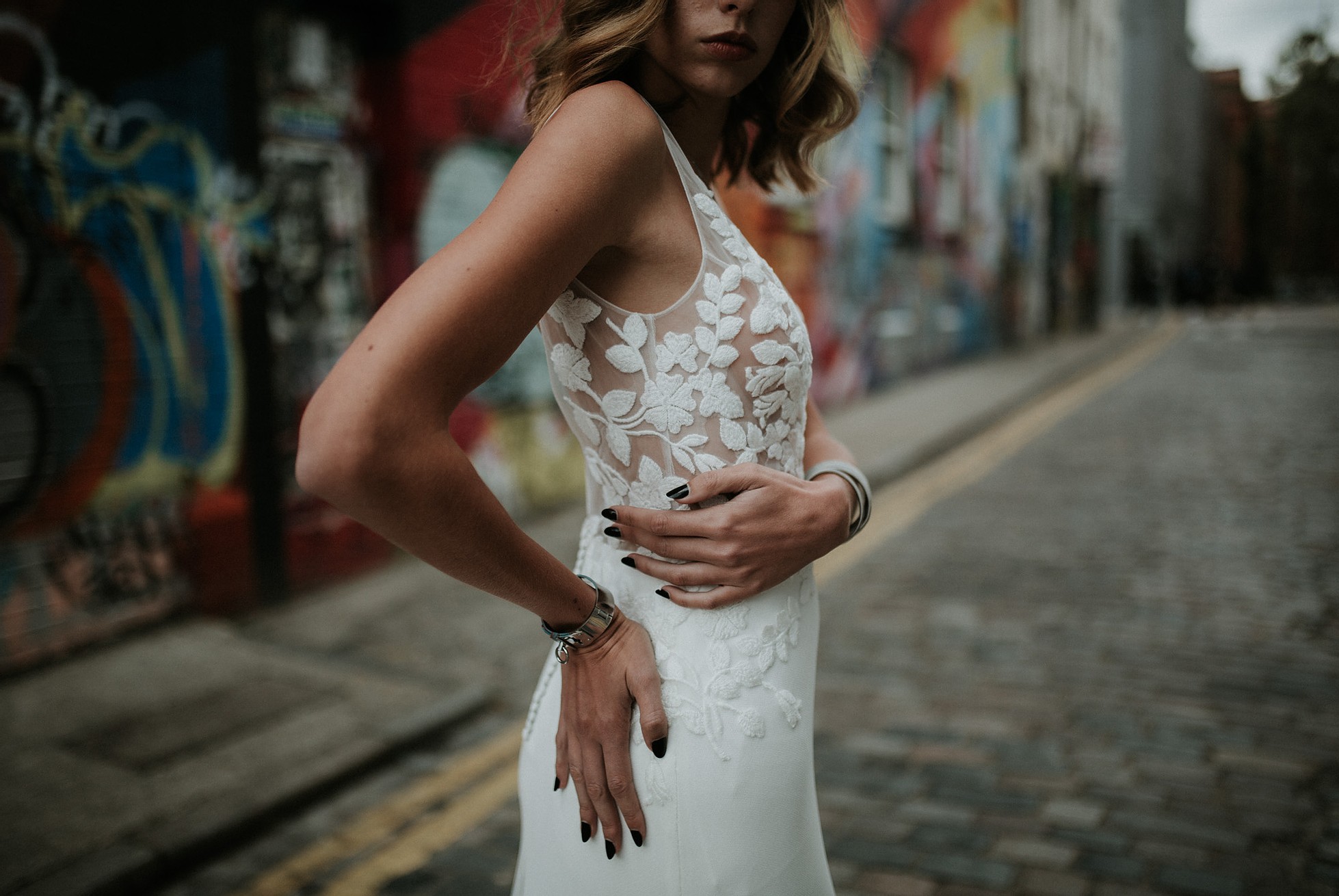 In your opinion, has embroidery replaced lace?
Lace remains timeless, I don't think it's ever going to disappear, but embroidery is modernising wedding dresses. I've been working with lace for years. In 2019 when designing my Urban / White collection, I felt like making a change, hence the incorporation of embroidery in this collection. It ended up being a key trend that year, and a trend for years to come! 
Why did you choose London as the backdrop for this collection?
For me, London is a mixture of styles. There's a certain assertiveness, a dynamic that gives this city a million facets and a life at a hundred miles an hour. The hip neighbourhood of Shoreditch is undoubtedly the cradle of rock and street art. I absolutely loved the contrast between the purity of a bride and this intense mix of colours.
How do you envision the Manon Gontero Urban/White bride?
Sexy, feminine, sensual. A woman who wants to impress her husband and who goes beyond the traditional codes.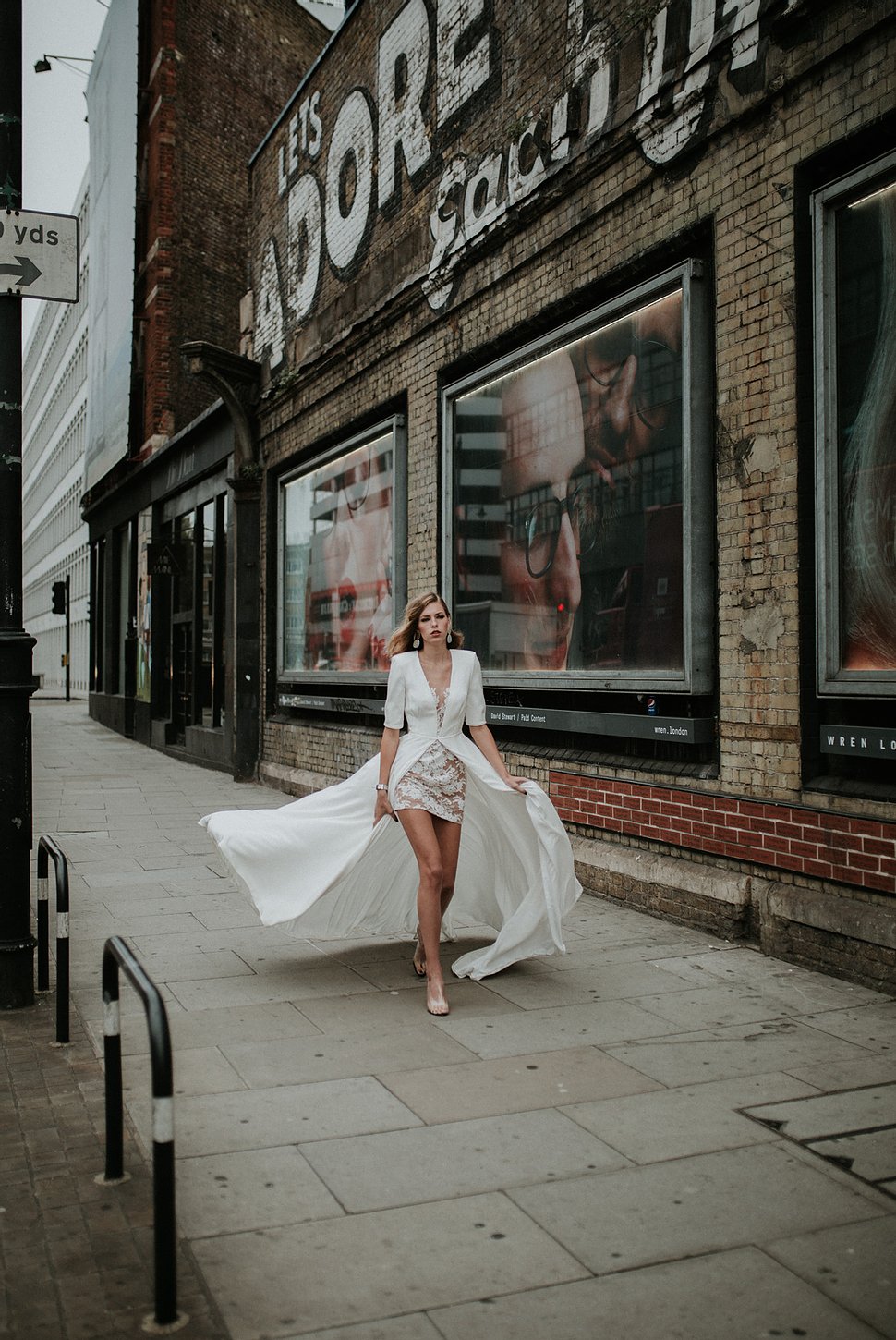 What accessories are needed to embellish a bridal look?
Fine dainty jewellery. Nothing flashy!
What pair of shoes should be associated with a wedding dress?
A pair of colourful shoes to break with the traditional dimension of a wedding dress.

Do you have a piece of advice for a bride-to-be looking for the perfect dress?
She needs to be comfortable. I'd say that's the number one priority because she's going to wear it all day long and let's be honest, she's going to be looked at all day long too!
What are your plans for the future?
At the moment most of my work is focused in Marseille (South of France). It was my choice because I do made-to-measure wedding dresses, but I would like to make a line that I could offer in other cities. Stay tuned!
Book an appointment at our London showroom to try on discounted samples from Manon Gontero's Urban/White Collection !