Laid-back elegance for the carefree nonchalant bride


Upon entering our showroom you will find the most beautiful pieces made by iconic French bridal designers. Noble materials, refined cuts, flowing silhouettes, effortless elegance - Welcome to Le Dressing Club!
The story of our bridal outlet starts first and foremost with the encounter of our founder Victoire with Parisian bridal designers.
Dive into Laure de Sagazan's bohemian universe as we recount the beginning of Le Dressing Club's adventure with the bridal maison.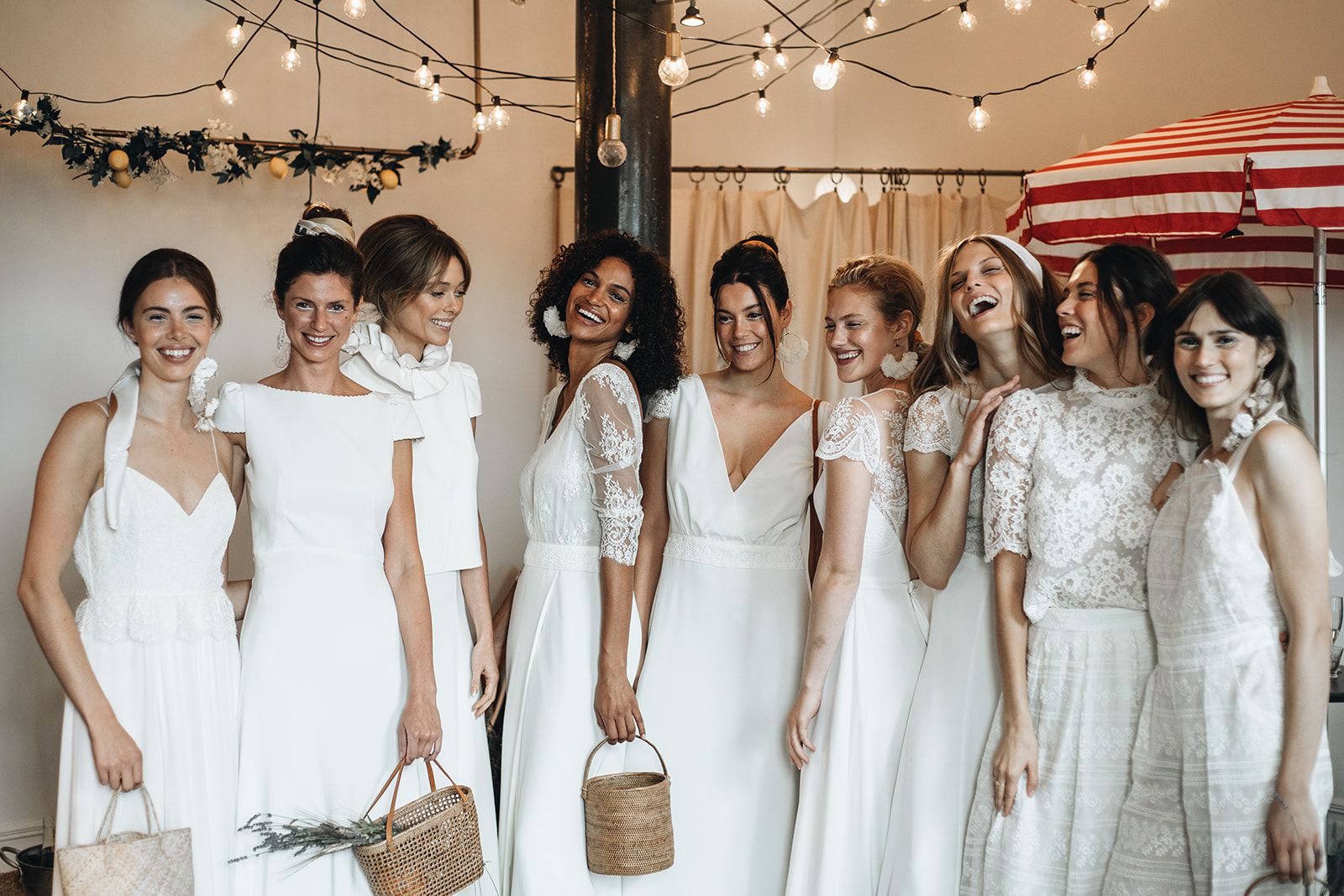 Who is Laure de Sagazan?
A lover of fine objects and the past, Laure de Sagazan always knew she wanted to be a stylist. She started taking sewing classes at the age of 8 and would make her own school aprons and pyjamas. Her parents loved flea markets and on Saturday mornings they would rummage around markets and antique shops together.
As a little girl, Laure would wear retro aprons with puffy sleeves. She recounts being very proud to be the only one at school wearing such clothing and felt like a princess!
She would spend hours in her family home's attic, climbing on wardrobes to find old clothing. She was mesmerised by the vintage lace, ancient embroidered veils and ivory hues.
After graduating from fashion school, Laure worked 3 years as a junior stylist for Ba&sh, a well-known French fashion label. Little did she know she would enter the world of bridal wear and make a name for herself.
What drew her to the bridal world?
 While working for Ba&sh, Laure received her first request to make a wedding dress, from her cousin and now business associate Mathilde. Working with lace, noble materials, folds and pleats… Laure de Sagazan is immediately conquered by her white retro creation.
On the back of this, she quickly received other wedding dress requests and started thinking there may be an underlying opportunity there.
In 2011, at 25 years old, she decides to leave her job at Ba&sh to create her own wedding dress maison, with her husband Edouard and cousin Mathilde.
It only took a few creations for her aesthetic to blossom. Her designs share a bohemian essence, ivory colour palette and flowing poetic cut. Nevertheless, rather than inventing a style, according to her, she identified the will of women to be less 'dressed-up' on their wedding day. Women of her generation don't dream to be princesses but free women, entrepreneurs who get married later.
Laure describes her style as poetic and offbeat, infused with retro elegance.
When Le Dressing Club met Laure de Sagazan
In 2011, Le Dressing Club's founder Victoire goes to several weddings. That Summer she begins to hear the name of the one that will become the most sought-after French bridal designer.
When Victoire launches her bridal outlet concept in 2013, Laure de Sagazan is the first bridal designer she contacts.
"When I first entered the Laure de Sagazan workshop, I was immediately impressed by the intense activity that took place there in an incredibly calm atmosphere! The seamstresses were scurrying around, some of them concentrated on their mannequins or on their sewing machines. But the quiet hustle and bustle seemed perfectly orchestrated. We've been working with the brand for almost seven years, and I've noticed over time that Laure de Sagazan is impressively well organised. The management team knows in which direction they are heading and the rest of the team follows perfectly. It's a real pleasure to work in an environment like her's and under such conditions."
Laure de Sagazan's impressive showroom is set in an old industrial building. It seems impregnated with historical background, just like Laure's bridal designs. Step by step, Laure enjoys decorating it with vintage retro decor but with over 6,000 square feet, there's a lot of work on the cards!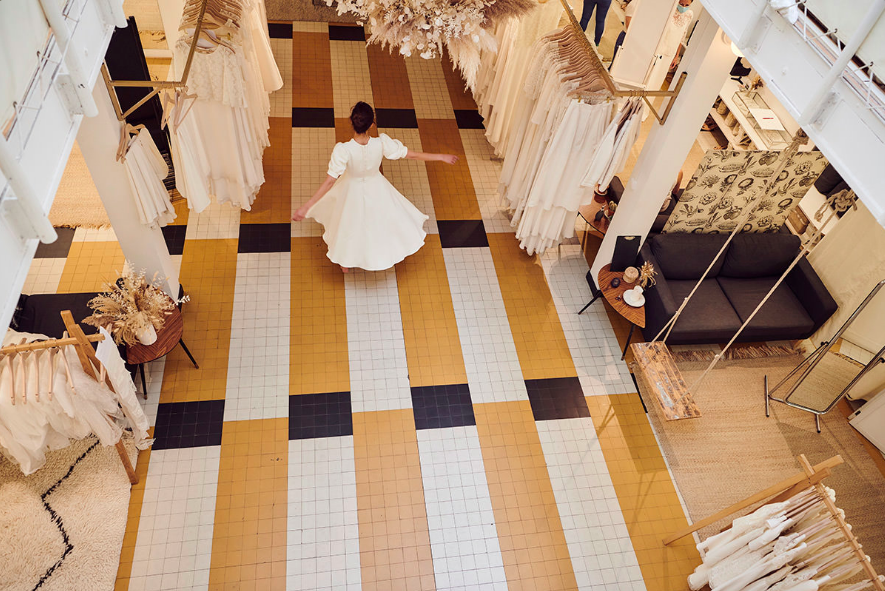 Why we love Laure de Sagazan
At Le Dressing Club we love the designer's unique distinctive style. Laure de Sagazan subtly combines traditional retro-like features, with a touch of freshness and modernity. Laure de Sagazan has the talent of injecting character and life into each of her creations.
What we love most? Her fluid butter-soft materials shaped to highlight the bride's silhouette in a somewhat daring elegance.
Forget the outdated meringue-style wedding dress, frills and rhinestones, Laure de Sagazan is all about lace and breezy silhouettes. Her key word is simplicity !
The silhouettes of Laure de Sagazan wedding dresses are not the traditional structured wedding dress shape. Her gowns feature soft draping and unusual constructs - breezy skirts, soft camisole tops with lace overlays, drop or empire waistlines. So chic and yet so effortlessly cool.
Made for whimsical romantic brides, Laure de Sagazan dresses flirt with the past while staying current and modern.
We also love the versatility of Laure de Sagazan's bridal collections which include many romantic understated top and skirt combinations. Her two pieces ooze laid-back elegance and will perfectly nail the carefree nonchalant bride look. Not to mention brides can re wear their bridal tops beyond their wedding day, turning their wedding look into a sustainable purchase. No wonder they are incredibly popular at Le Dressing Club! 
Whatever your figure, we are confident you will find a dress among her collections that will showcase your body shape.
Discover a selection of her timeless designs here and book your free fitting at Le Dressing Club to step into Laure de Sagazan's whimsical bohemian universe!